I was super excited to be part of the 2017 Canadian Songwriting Challenge (Saskatchewan edition) this past weekend, presented by our provincial music association, SaskMusic, in partnership with the Canadian Council of Music Industry Associations (CCMIA) and Bell Media.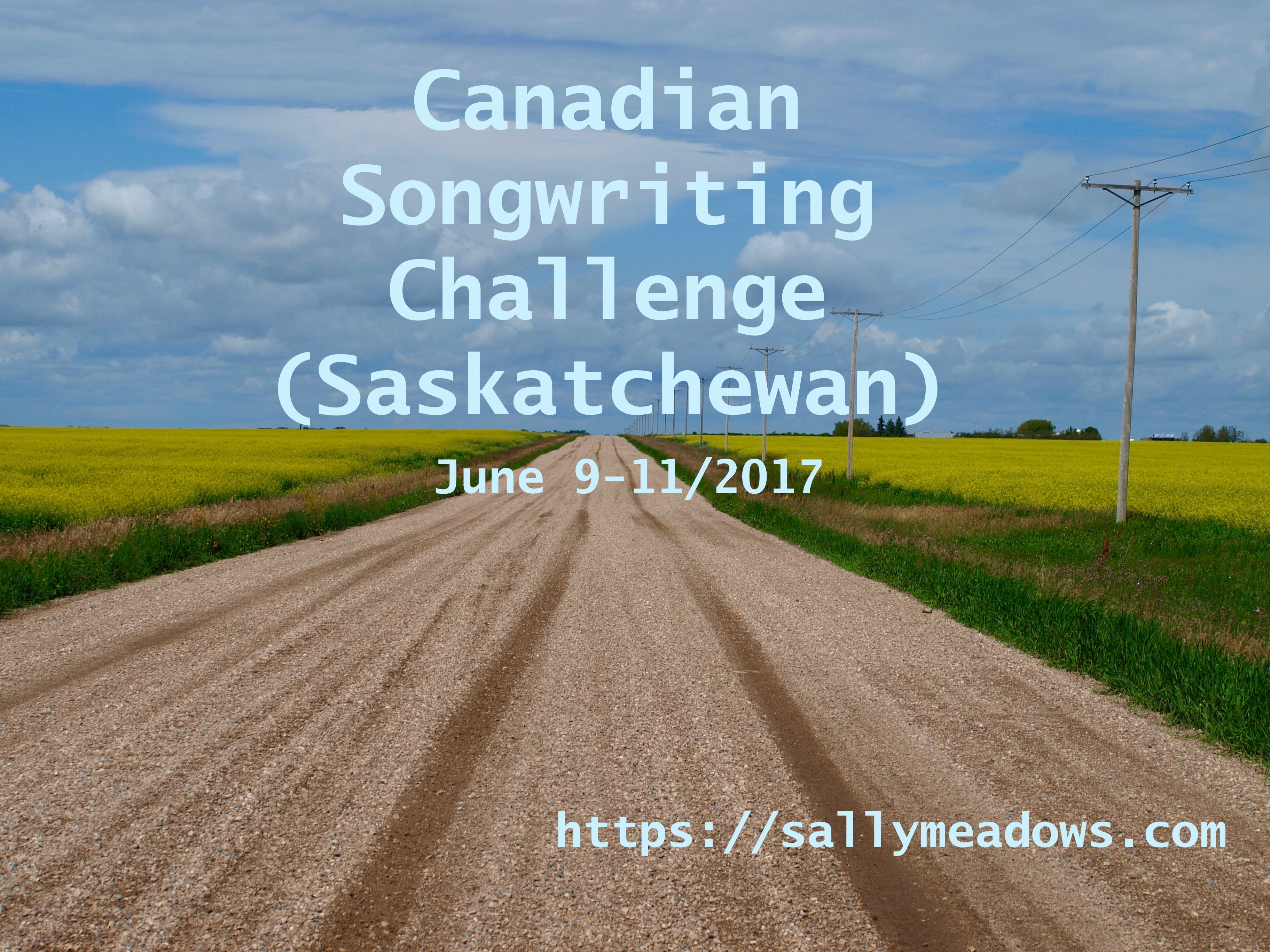 Held at the Recording Arts Institute of Saskatoon (RAIS), the event was mentored by acclaimed LA-based songwriter/producer Justin Gray who has worked with artists such as John Legend, Amy Winehouse, Joss Stone, and Mariah Carey. It was a whirlwind weekend but one I wouldn't trade for anything. 
The event kicked off Friday, June 9th, 2017 with a meet-and-greet for the nine participating Saskatchewan songwriters. We each shared one of our original songs and Justin Gray did an excellent job with advice in honing our pieces and/or to be used for future songwriting. He also kept the mood light and fun; he's a funny guy!!!!
 
Besides the critique, my biggest takeaway from Justin was this: 
 When we write a song, it lasts forever—even outlasting our life here on earth. You never know how that song might impact someone in the future. – Justin Gray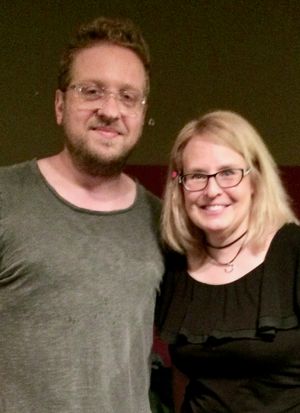 Saturday morning, the event was opened up to other SaskMusic members so they could benefit from Justin's wisdom as he discussed "The Anatomy of a Hit." Some of his key points included: 
Figure out how to grab the listener's attention quickly

Let the listener into a slice of your life 

Every four bars find a way to bring something new in to energize the listeners and keep their attention 

Don't have too much going on at the same time 

Use classic chord combinations that let the lyrics shine 
We then had a Face Time session with Evan Bogart, who is an American music executive, television producer, music publisher, and songwriter. Evan is the son of Casablanca Records (Kiss, Donna Summer) founder Neil Bogart. Evan is exceptionally talented in his own right; some of the highlights of his career include co-writing "Halo" for Beyonce and discovering Eminem.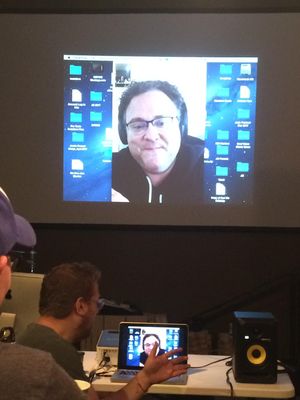 Here are some of the words of wisdom Evan shared with us: 
Success comes from leveraging little moments 

Put one foot in front of the other as you walk out your journey as a songwriter 

Be prepared for your big break so when it comes you are ready 

Building relationships and collaborating are extremely important 

Choose songwriting partners wisely, so that you bring out the best in each other 

Get your music out there in whatever way you can 

Keep your life—spiritual, physical, emotional, mental—balanced 

Go to networking events, be open, never shut doors, and bring kindness wherever you go 

Support other artists and let other artists support you 

Have fun and enjoy the process! 
If you are enjoying this post and would like to keep up with all my news, please consider signing up for my newsletter. You can sign up here and you will also receive a FREE music gift.  
Saturday afternoon we were split into three groups of three to co-write a song; this was the first step of the Canadian Songwriting Challenge. I was pleased to be paired with two experienced musicians: Scott Anthony Andrews and Lyn Besse McGinnis, both of whom I have met before.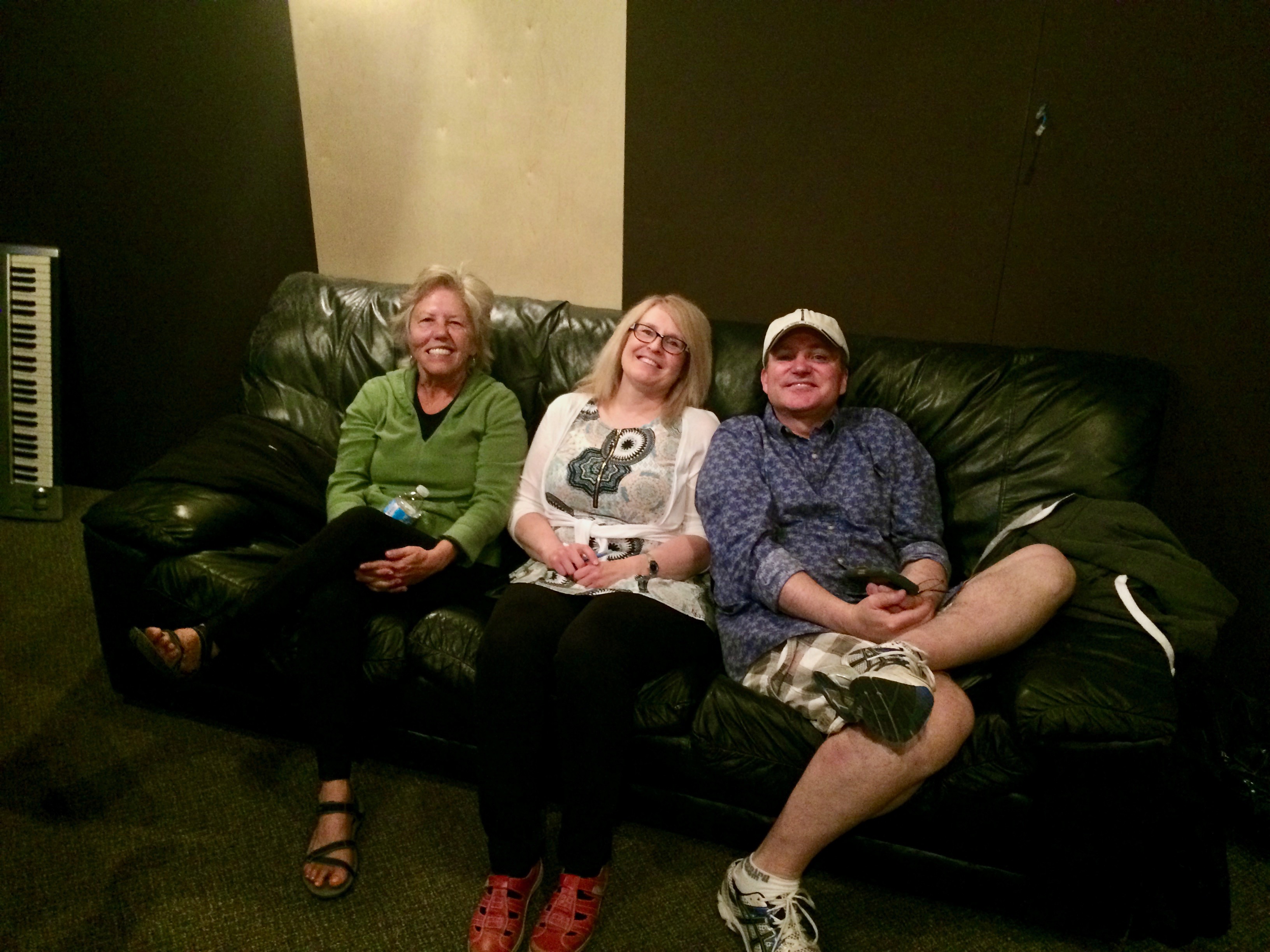 Together, we wrote a song called "Saving Up Moments," the concept of which was brought forward by Lyn. All three of us worked on the lyrics and music and it was wonderful to experience the songwriting process with two other people; up to this stage, I have only done co-writing with one other person at a time.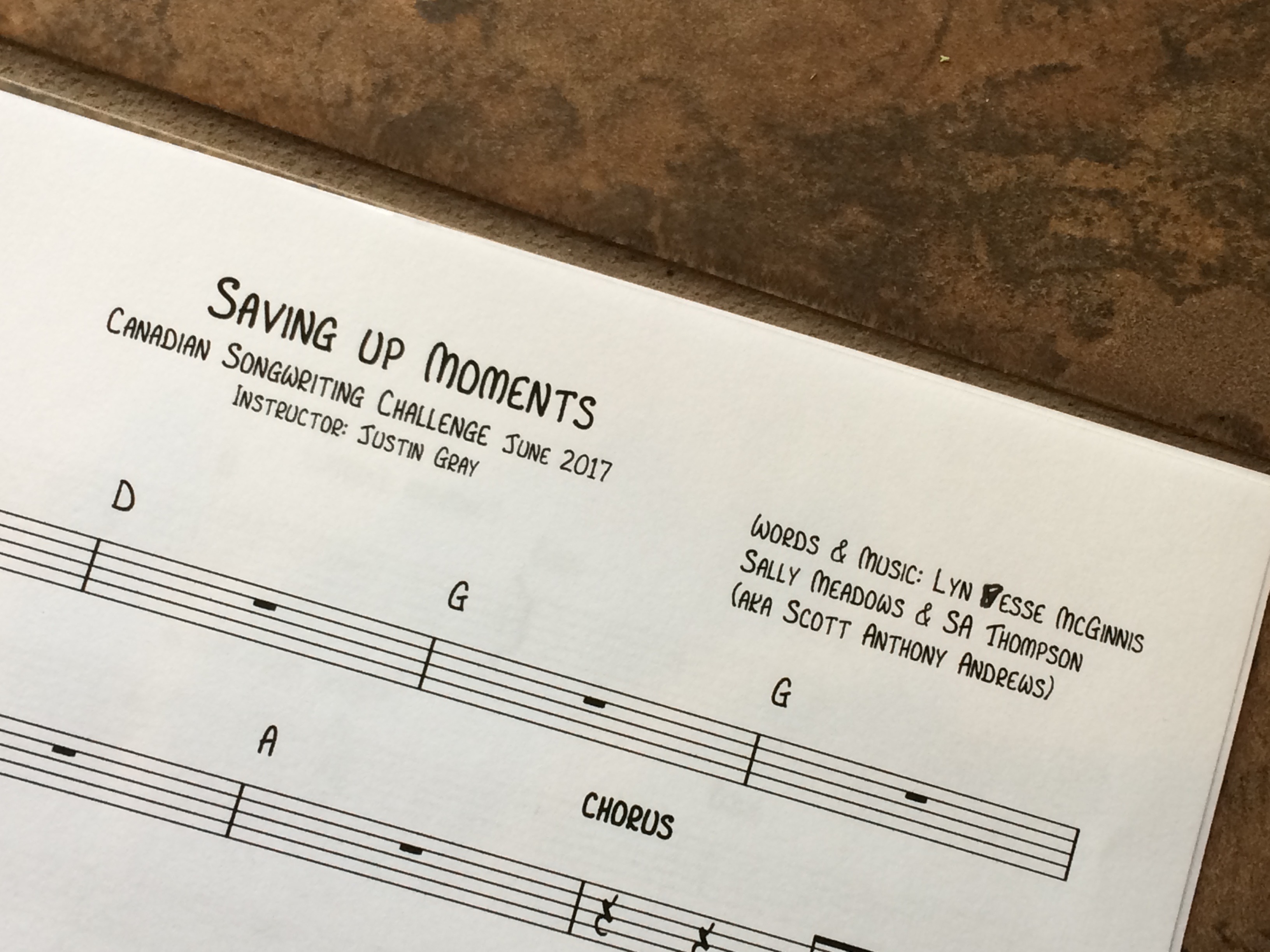 Later, we all had a wonderful dinner together at the Congress Beer House on 2nd Avenue in Saskatoon, when I had a chance to connect with some of the other songwriters, including Tyler Gilbert, James Gates, and Luke Rossmo who were working as a second trio. Here are James (left) and Tyler (right) with me back at the Recording Arts Institute.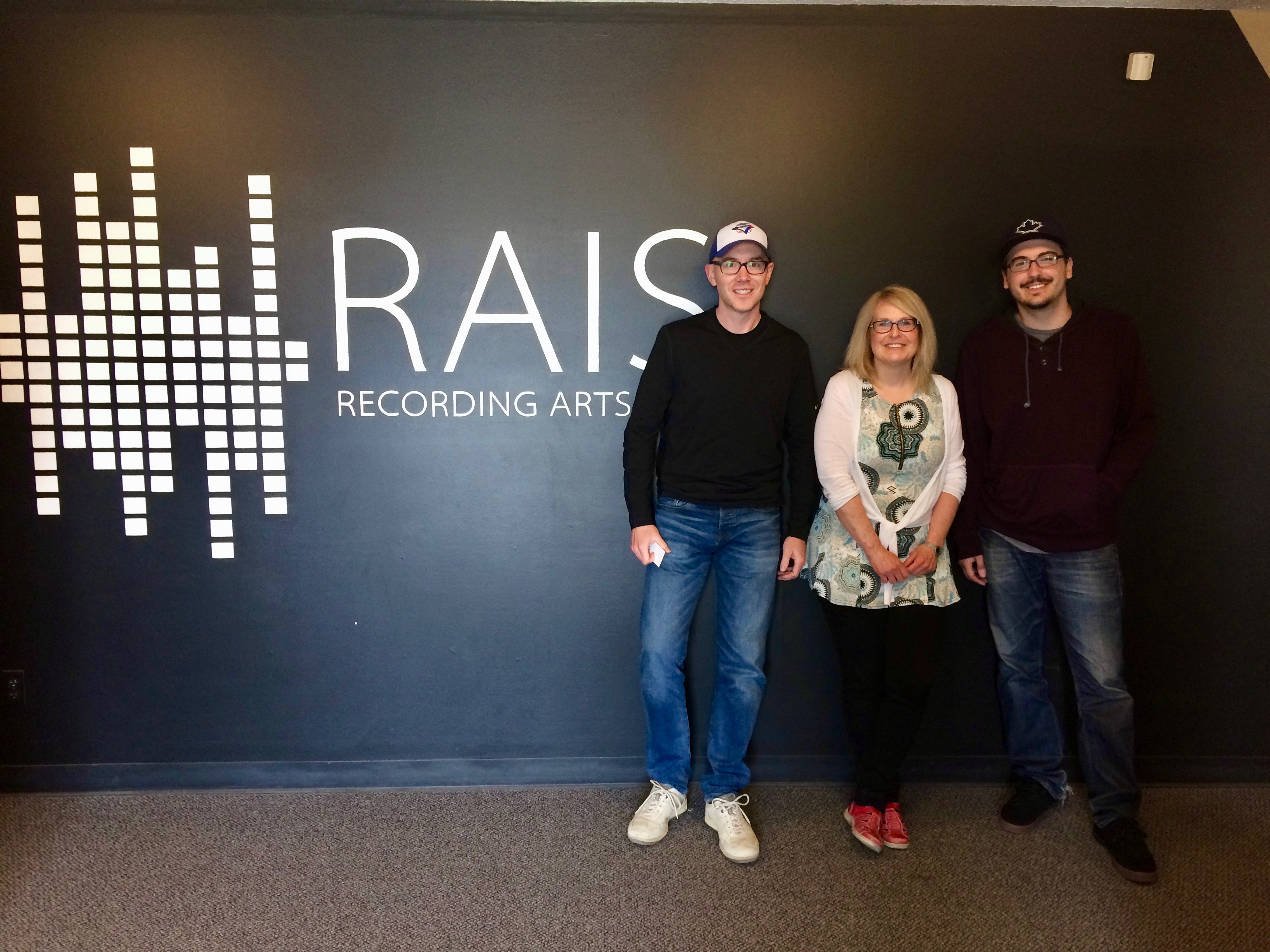 Sunday morning we continued refining our song; whereas Saturday was largely trying to get down the bones of the song, Sunday we could feel it all coming together. Scott brought along software that allowed us to create and print out a lead sheet, which was infinitely useful to someone like me who needs to have something visual to work off of.
Over the lunch hour, we had a Skype session with Justin's friend Lauriana Zuluaga, who has had a wide range of roles in the music industry, with a passion for helping indie artists connect with film and television music placement opportunities. The quote I liked most from Lauriana was this one: 
Right now there is an advantage to being an international (Canadian) artist. - Lauriana Zuluaga
In the afternoon, it was time to do part two of the Challenge; go into the studio to record our song. Here is a photo of Scott, Lyn, and me hard at work!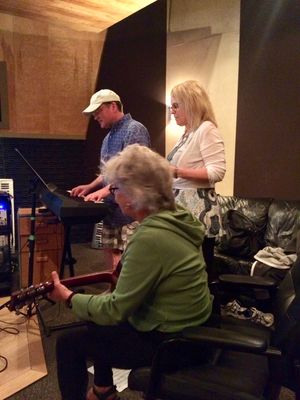 Many thanks to the Recording Arts Institute of Saskatoon for lending us their facilities and especially Ryan Andersen's skilled hands in the recording process. Justin popped in during the recording to put his spin on our song too (below).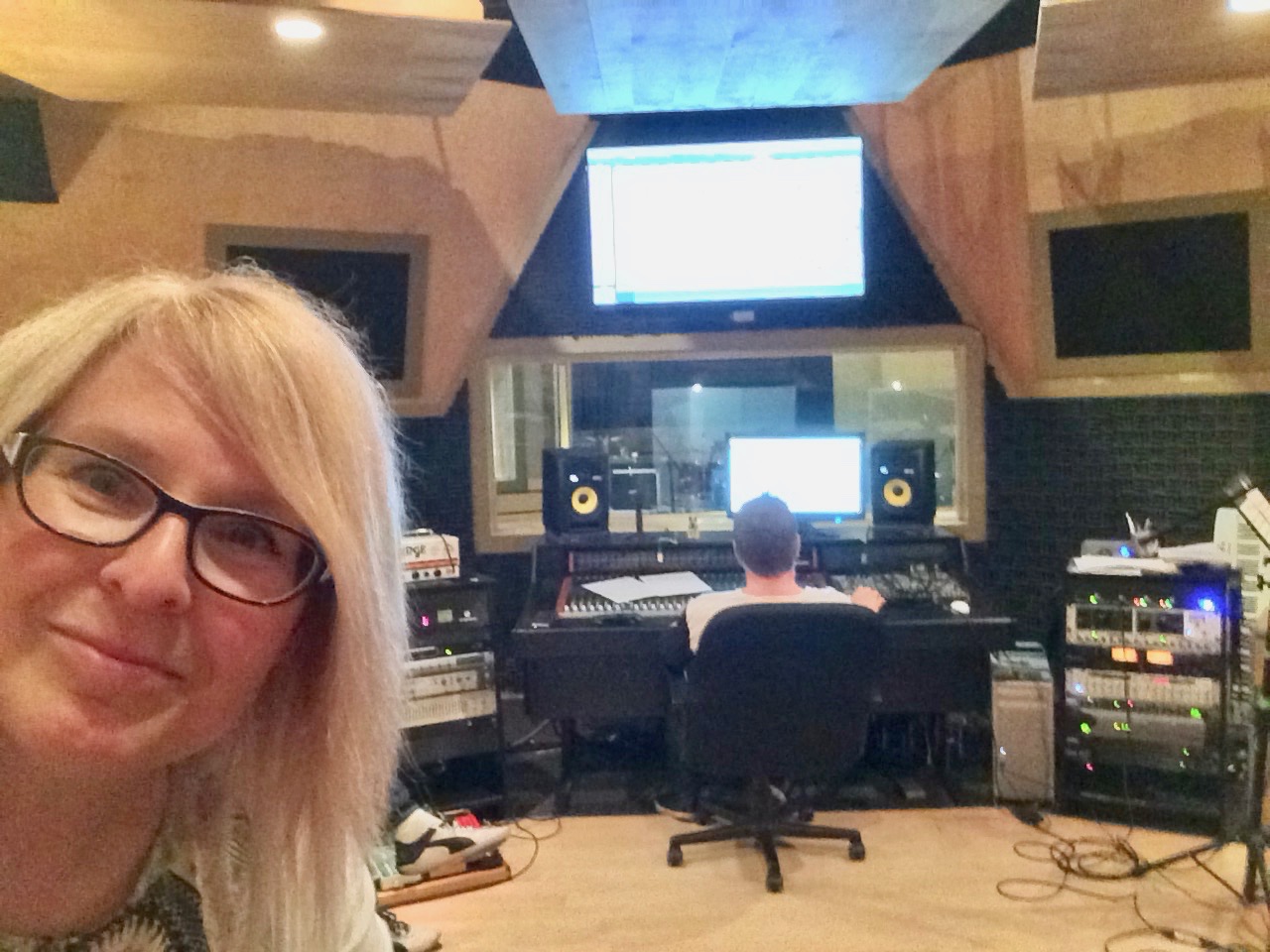 By the end of the afternoon, we all gathered together to hear the results of the three songs written and recorded by the nine participating songwriters. Alexandra Barabe, Levi Soulodre, and Gabrielle Giroux (with the band The Wolfe) were the other three participating artists. Justin gives his final words to us below.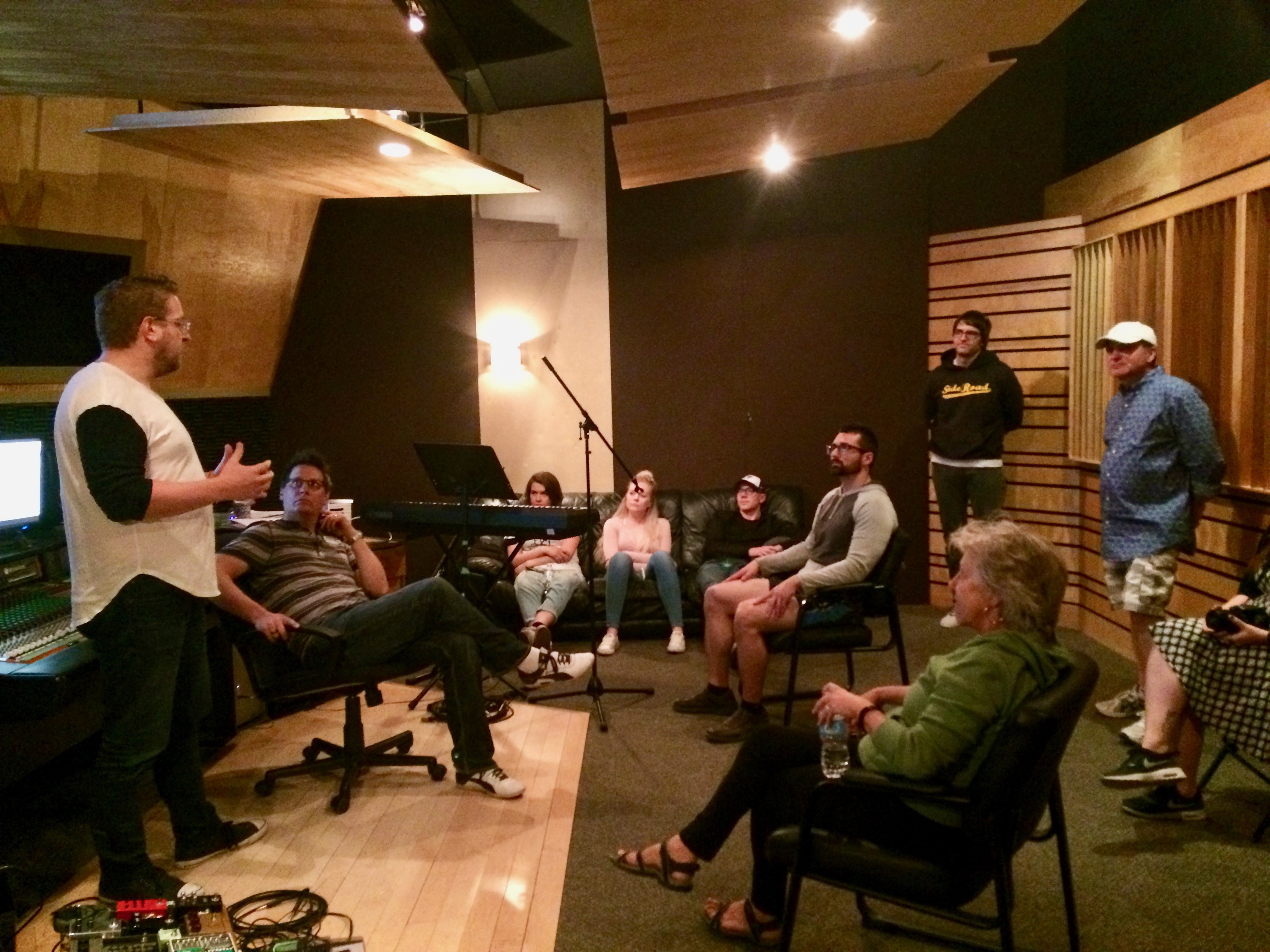 What happens next? Justin Gray will be tweaking our songs in his Los Angeles area studio over the next few weeks and will be sending final versions to us to do as we please.
My hat is off to Brittney and Kaelen of SaskMusic for their excellent hosting, as well the Canadian Council of Music Industry Associations (CCMIA) and Bell Media for giving me the opportunity to be part of an absolutely memorable weekend.
If you have enjoyed this post and would like to keep up with all my breaking news, please like my Facebook page.