This blog is the last of a three-part blog about my experience at Write Canada, Canada's largest conference for Christian writers, which was held at the Holiday Inn Yorkdale in Toronto, Canada, on June 23-25th, 2016. You can read the first two blogs here and here. 
 
My first workshop was with Catherine DeVries, Publisher with David C. Cook Publishing Company, who spoke on "Fundamentals of Writing Children's Literature." It was jam-packed with content and lots of encouragement. 
  
Catherine has a lovely, warm personality, and she encouraged us with statistics that "children's publishing is leading the way in publishing today." She shared that the top five categories in Christian children's publishing are: bible storybooks, devotionals, picture books, fiction, and books with author tie-ins (i.e. the bestseller Not A Fan), and included an analysis of opportunities and challenges for writing in each category. She also reviewed emerging trends in the industry as a whole. 
  
Catherine also talked about how to engage children more fully in the spiritual aspect of their lives through literature. She emphasized that if children haven't accepted Jesus Christ by around age 12 (the critical turning point being in the range of age 8-12), then the likelihood that they will accept the Lord into their lives later plunges dramatically. She encouraged us as writers to help kids find answers to the questions they may have about faith, through our writing. 
  
If Catherine's presentation has piqued your interest, you can purchase an audio recording of her entire workshop at https://thewordguild.com/2016-wc-audio-order-form/. 
  
The second workshop I attended was Marcy Kennedy's "Plot, Goal, Motivation and Conflict." This workshop gave practical tips on constructing your story, including discussions about your protagonist, his or her goals and motivation, how to construct conflict, what are typical plot points, your story's hook, and how to end your story satisfactorily. If you would like to learn more about this topic, I highly recommend you purchase it on CD or mp3 at https://thewordguild.com/2016-wc-audio-order-form/. 
  
My third workshop was by Thomas Unstattd Jr. on Skype. The topic was "Making The Internet Work For Your Book." Again, this was a practical workshop, this time on marketing, with the key message that "your website should NOT be all about you;" further, every blog post needs to focus on your readers. 
  
My final workshop of the day (and conference!) was "Freelance Journalism: Pros/Cons, Writing Style, and Finding Publications" led by the multi-award-winning journalist Lisa Hall-Wilson. Some of the nuggets Lisa supplied included: 
  
1. Think outside the box to find unique stories. 
2. For every story, think about how you can re-structure it to sell it elsewhere (and increase your income).   
3. Be prepared to spend nearly as much time networking and pitching stories as you do actually writing.
4.  Create a niche and write about what you are passionate about, especially if you have great connections in those topics. 
5.  To sell an idea, the topic needs to be timely; you need to have enough material; you need multiple angles to the story (to sell it elsewhere); you need connections to interviewees. 
6.  Regarding ideas, look for an intersection between what's happening in the news and how it connects to faith. 
  
If this workshop topic piques your interest, I encourage you to buy an audio recording of Lisa's full workshop at https://thewordguild.com/2016-wc-audio-order-form/. 
  
Well that wraps up this three-blog series! I send out many thanks to The Word Guild and Write Canada for their staff and volunteers for making this, such a wonderful experience for so many writers.  I am incredibly blessed and thankful to have received both a bursary and private funding to be able to travel to this amazing conference!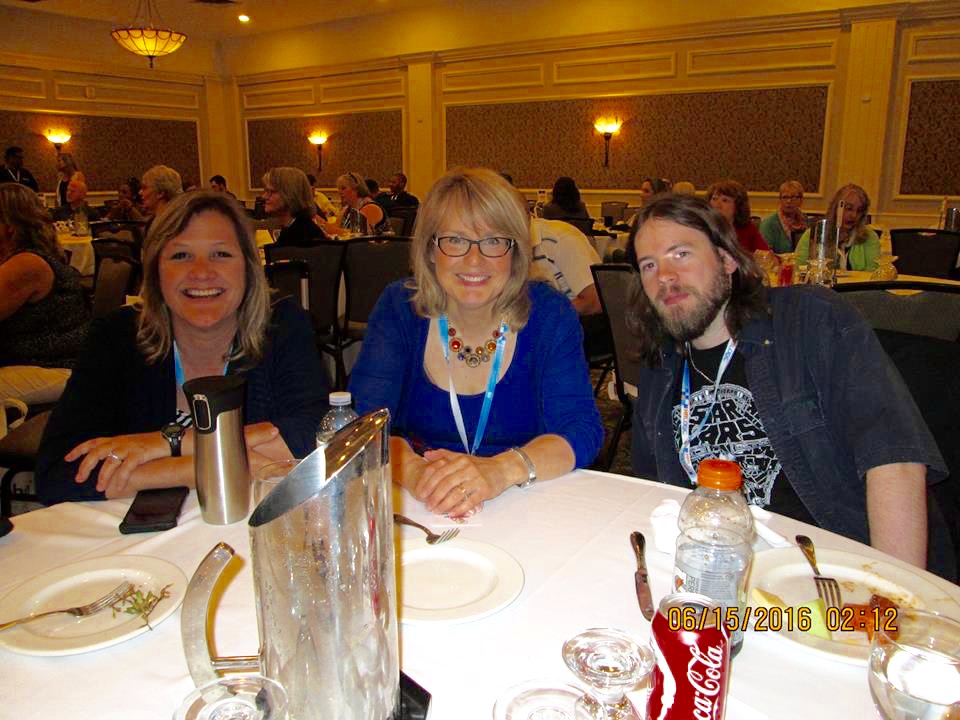 MEAL TIME AT WRITE CANADA! I AM JOINED BY AUTHORS KIMBERLEY PAYNE AND BENJAMIN COLLIER. PHOTO BY LYNNE COLLIER.
 

And if you have never been, I highly recommend you start saving now for Write Canada 2017! 
  
Hope to see you there!