Our family has been visiting the Saskatoon Forestry Farm Park & Zoo for as long as we've been living in this city—almost 25 years! 
Over the years, the zoo has worked hard to keep the exhibits fresh and exciting. One of the ways they do this is to "borrow" an animal from another zoo for a length of time. 
One of the most memorable residents for me was this African lion. This is still one of my favourite all-time photos from the Saskatoon zoo. Bit of trivia: my friend's husband, who is a journeyman carpenter, helped build the structure the lion is lying on!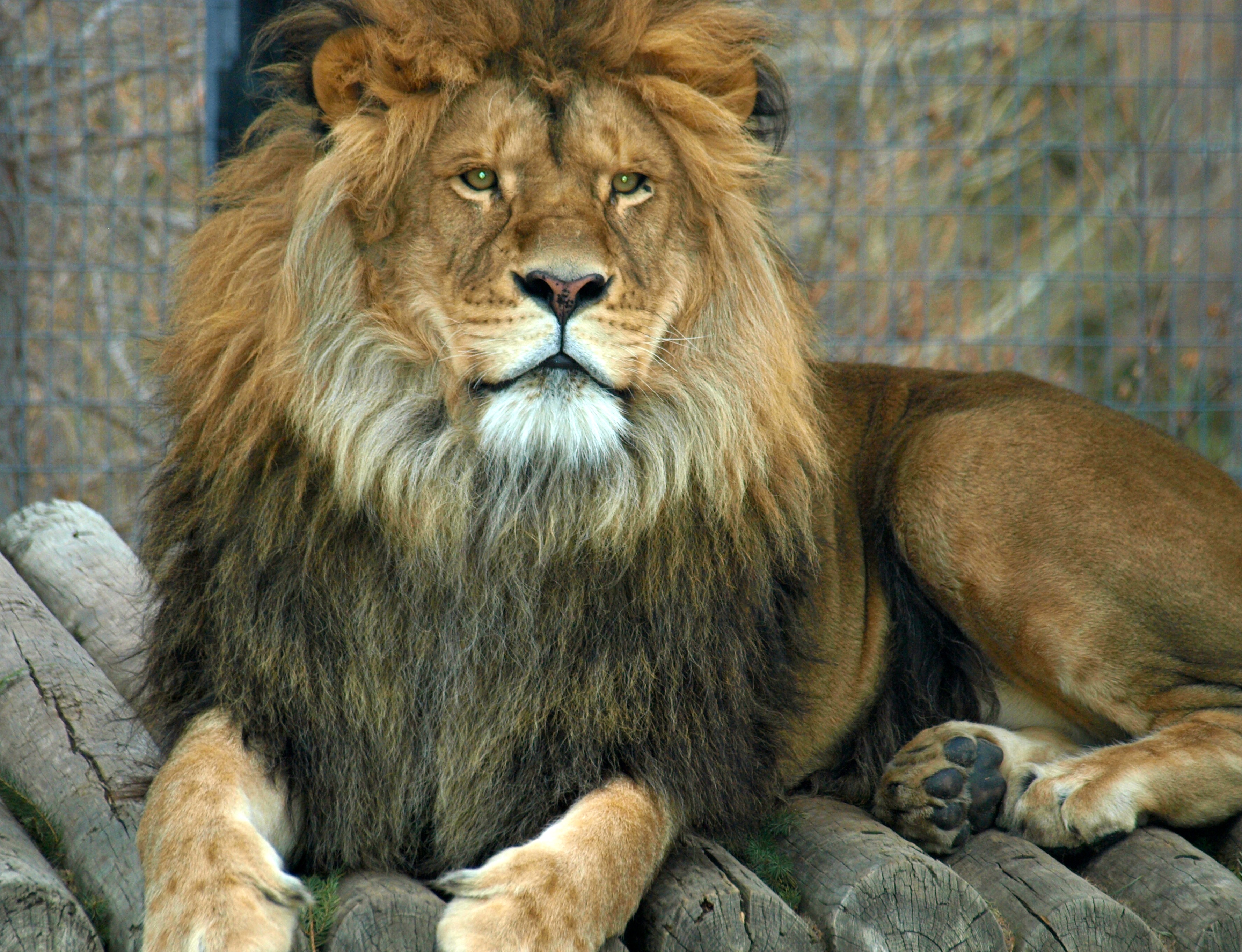 This is the only photo I have of this tiger, which was on loan—according to my records—in 2012 (but don't quote me on that). Tigers are the biggest members of the cat family. They can weigh up to 300 kg (660 lbs) and can run as fast as 65 km/h (40 mph)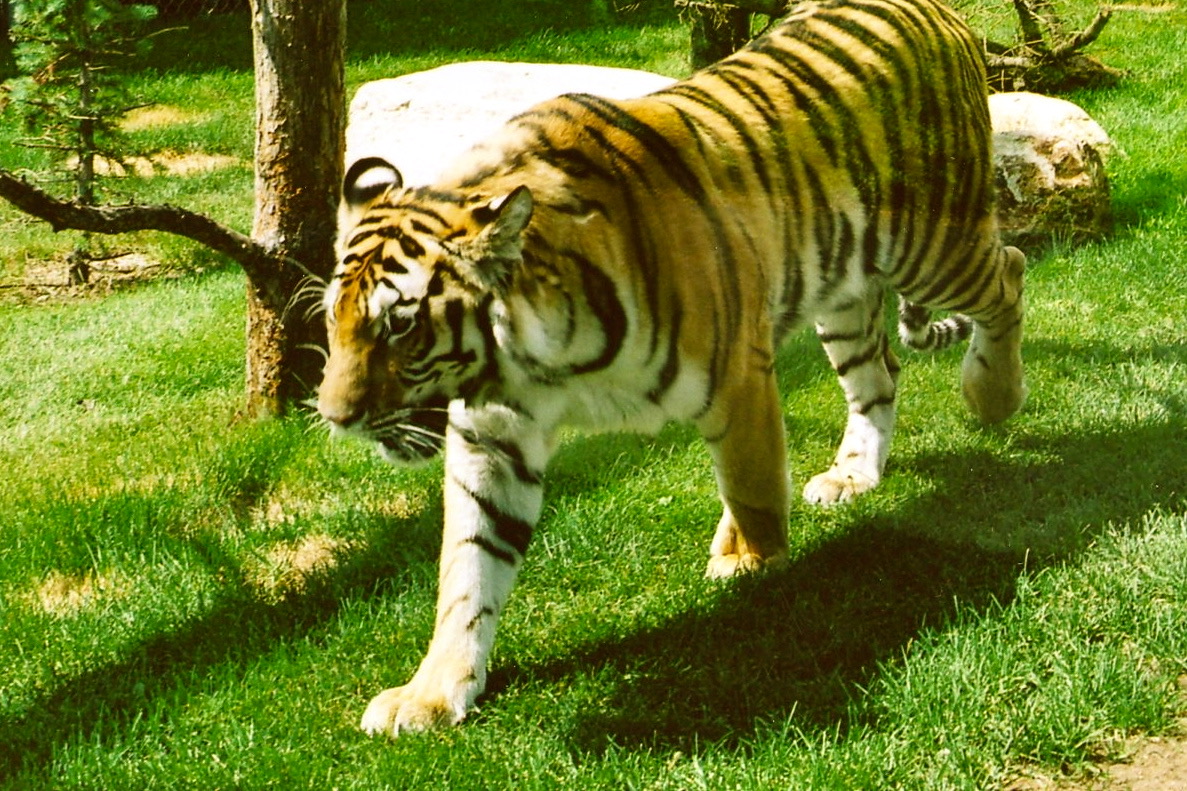 It's been a few years since this bobcat graced the zoo. Bobcats can be quite aggressive—some zookeepers call them "the spitfires of the animal kingdom." At 15 kg (33 lbs) bobcats have the capability of bringing down animals that weigh three times as much as they do—such as an adult white-tailed dear.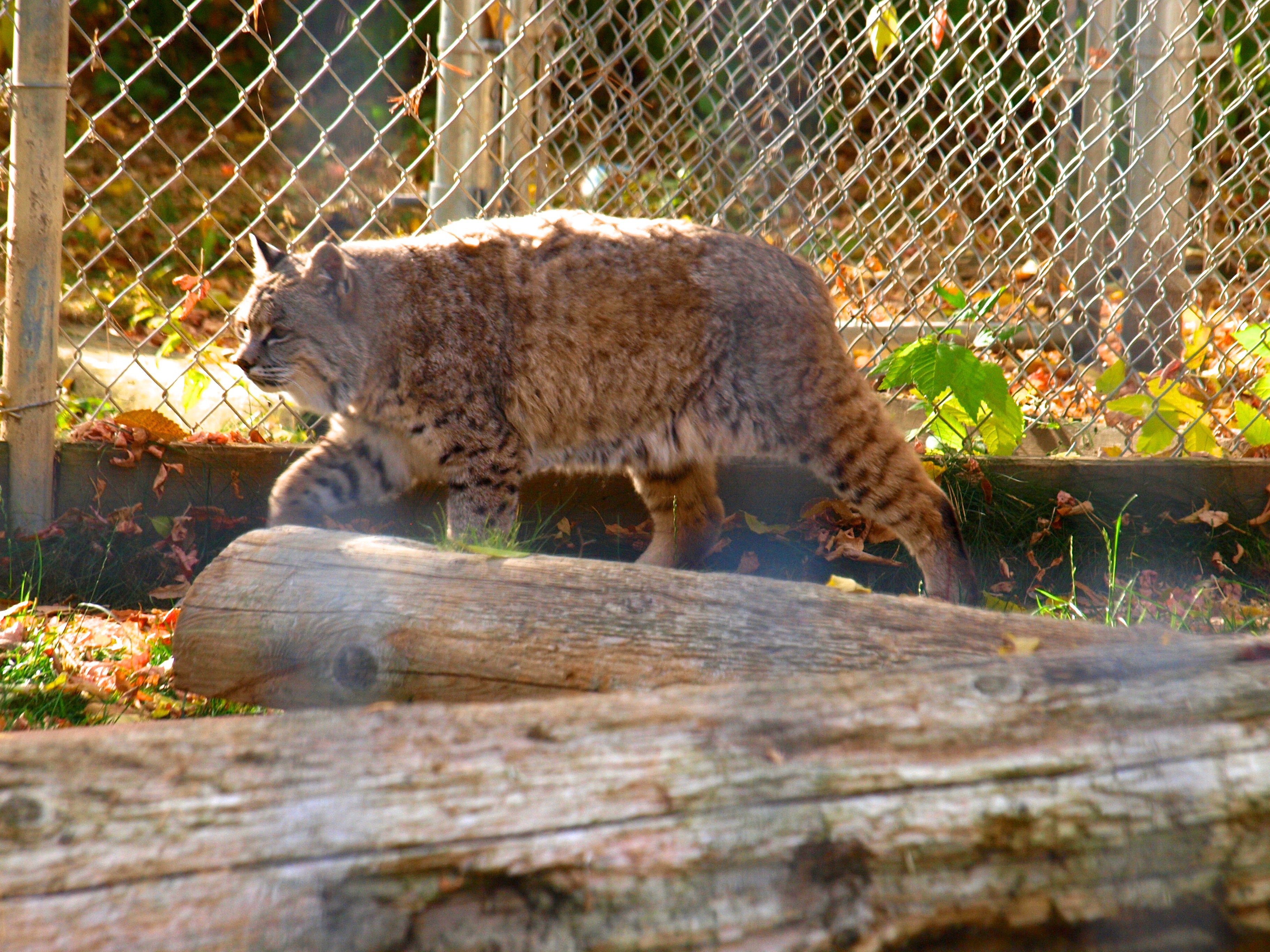 These rare Pere David Deer left the zoo around 2016. They roamed around a huge compound, keeping their distance from the public viewing area. Bit of trivia: Today most Pere David Deer are found only in captivity.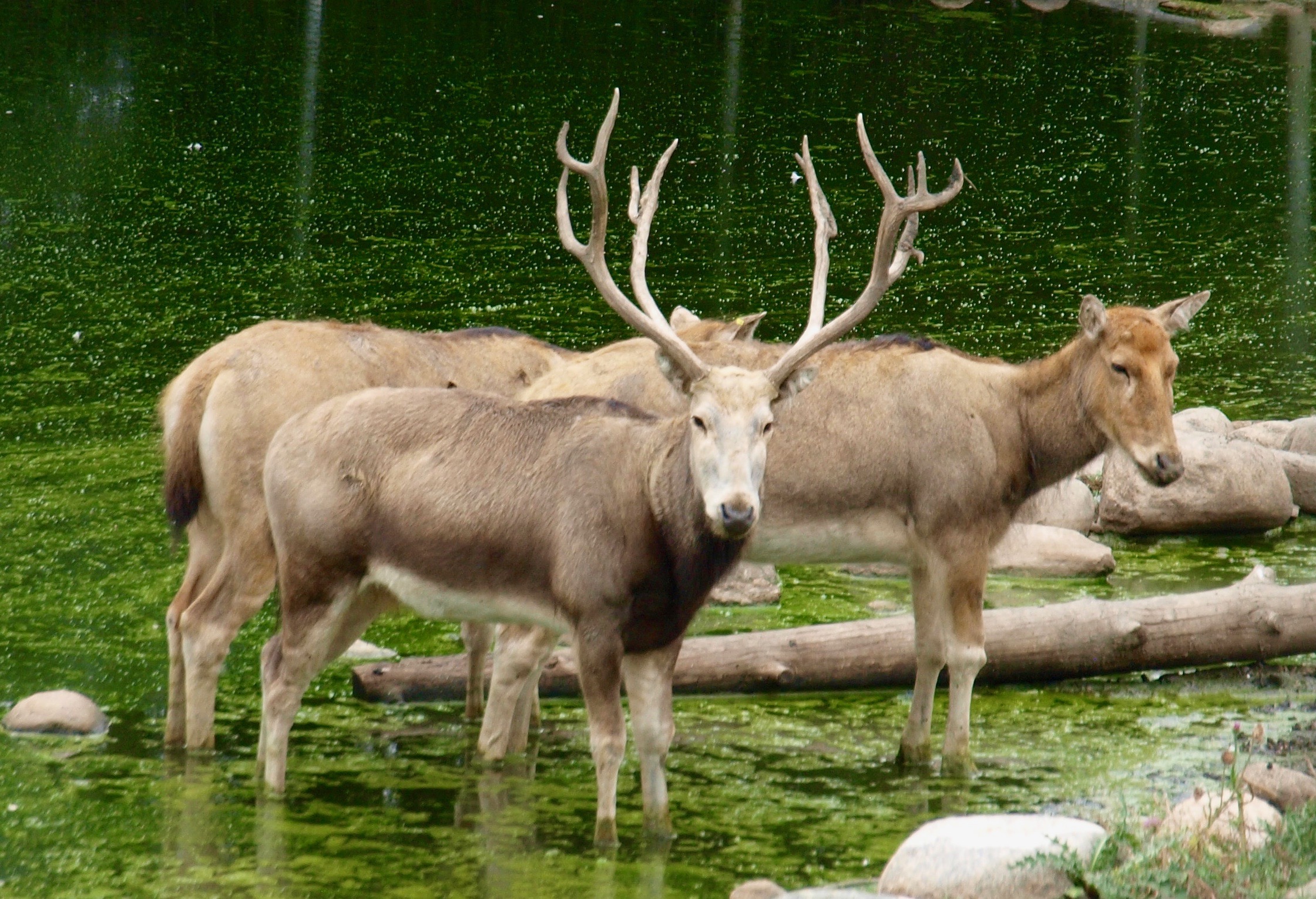 Did you know that when a male peacock fans its ornamental train for a potential mate the feathers quiver at a low frequency that can't be heard by humans? The male can change the sound by shaking different parts of its feathers, depending on whether he is interested in the female close by or one a distance away. Free roaming peacocks were a staple at the Saskatoon zoo for a very long time. As of 2017, they are no longer part of the zoo.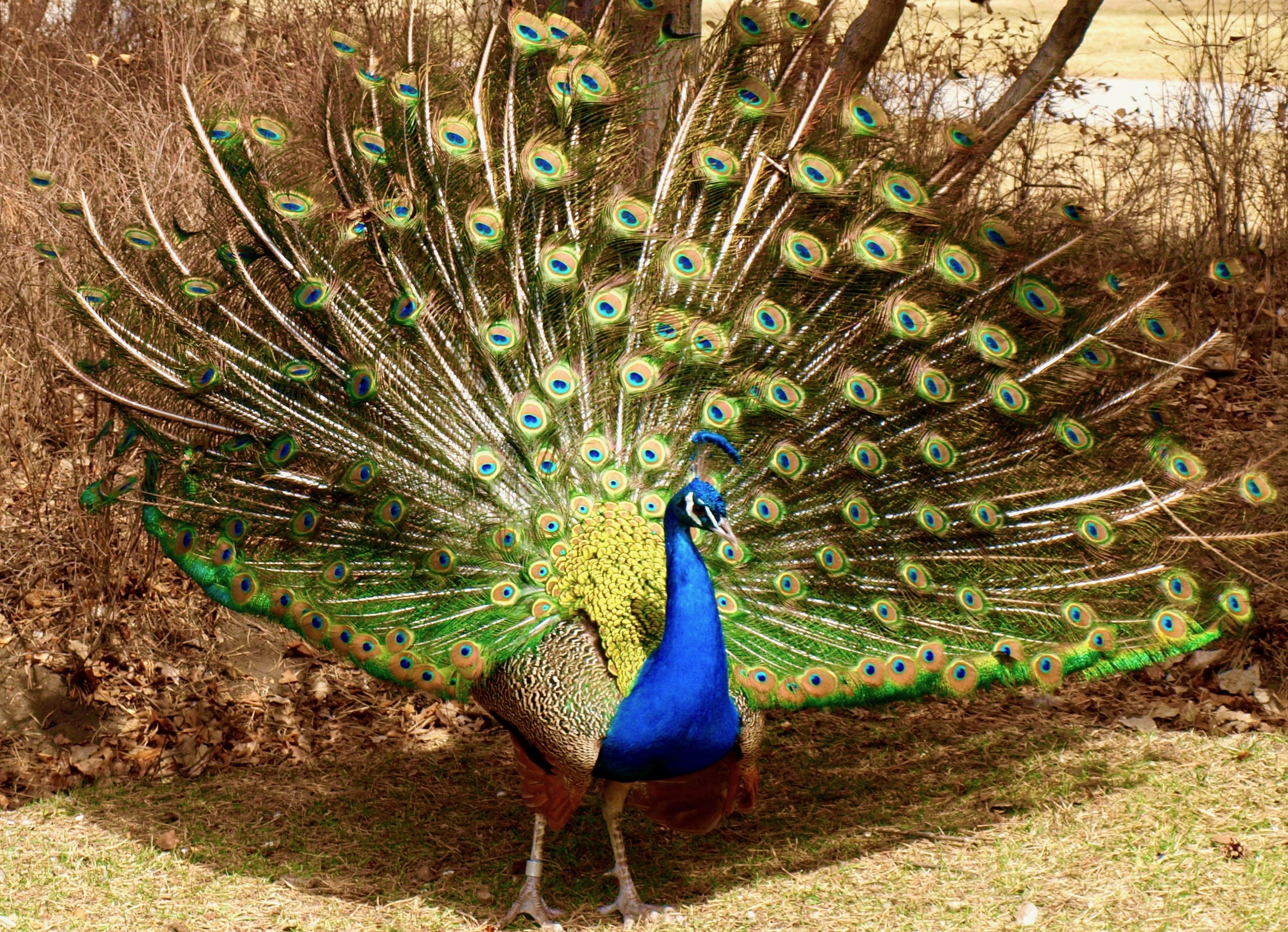 Many years ago, there was a leucistic peacock—one that appeared to be albino i.e. almost white—at the Saskatoon zoo. I was unable to find my photo of the male with its train fully displayed. Nonetheless, the leucism appears to have been passed down to this peahen, stunning against the autumn leaves.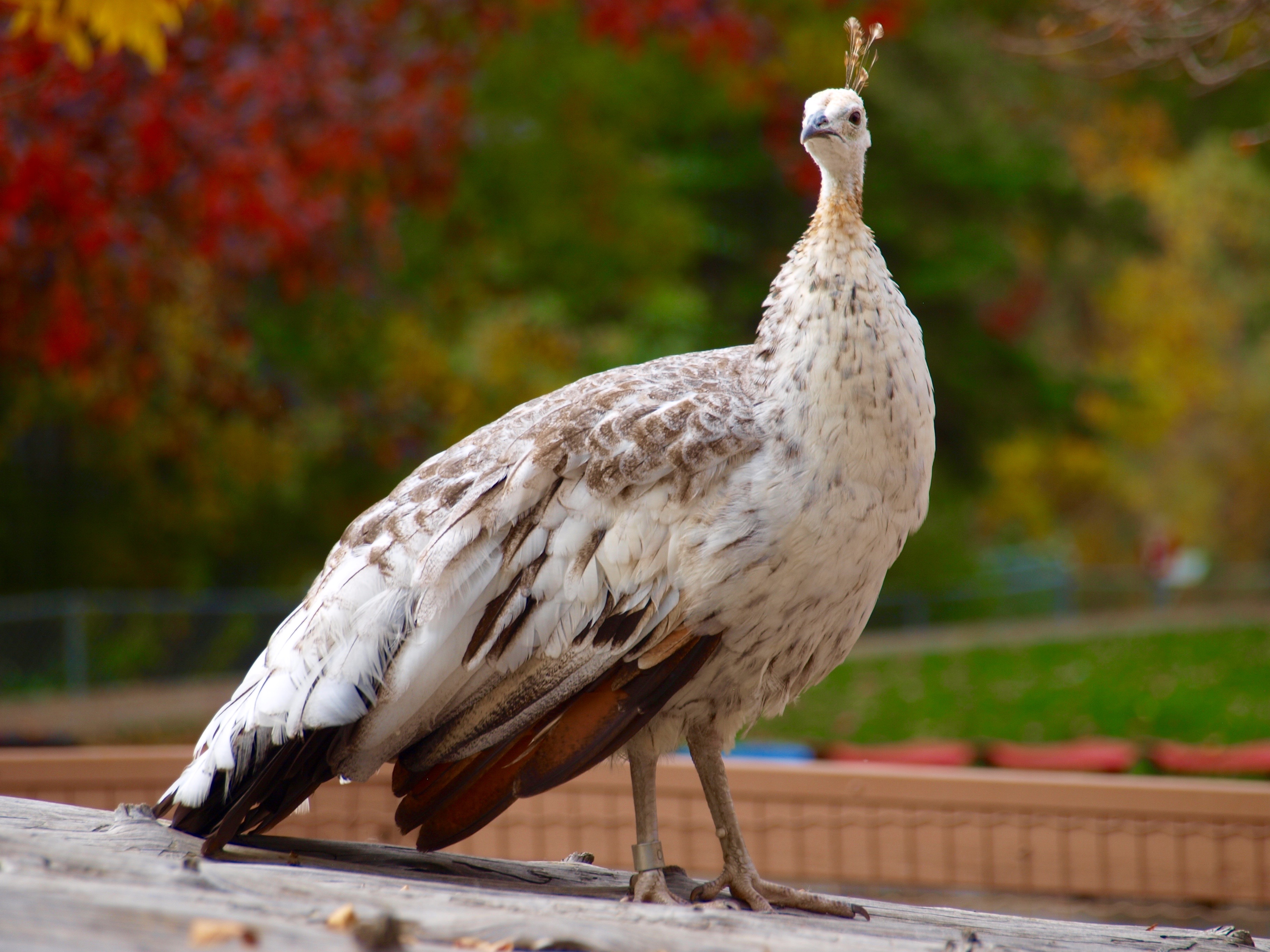 This is a Silkie bantam from China. We had so much fun watching it strut around the grounds of the zoo the last couple of years. Silkies have a sweet temperament and are excellent mothers known to adopt baby ducklings! I was really sad to see this one go.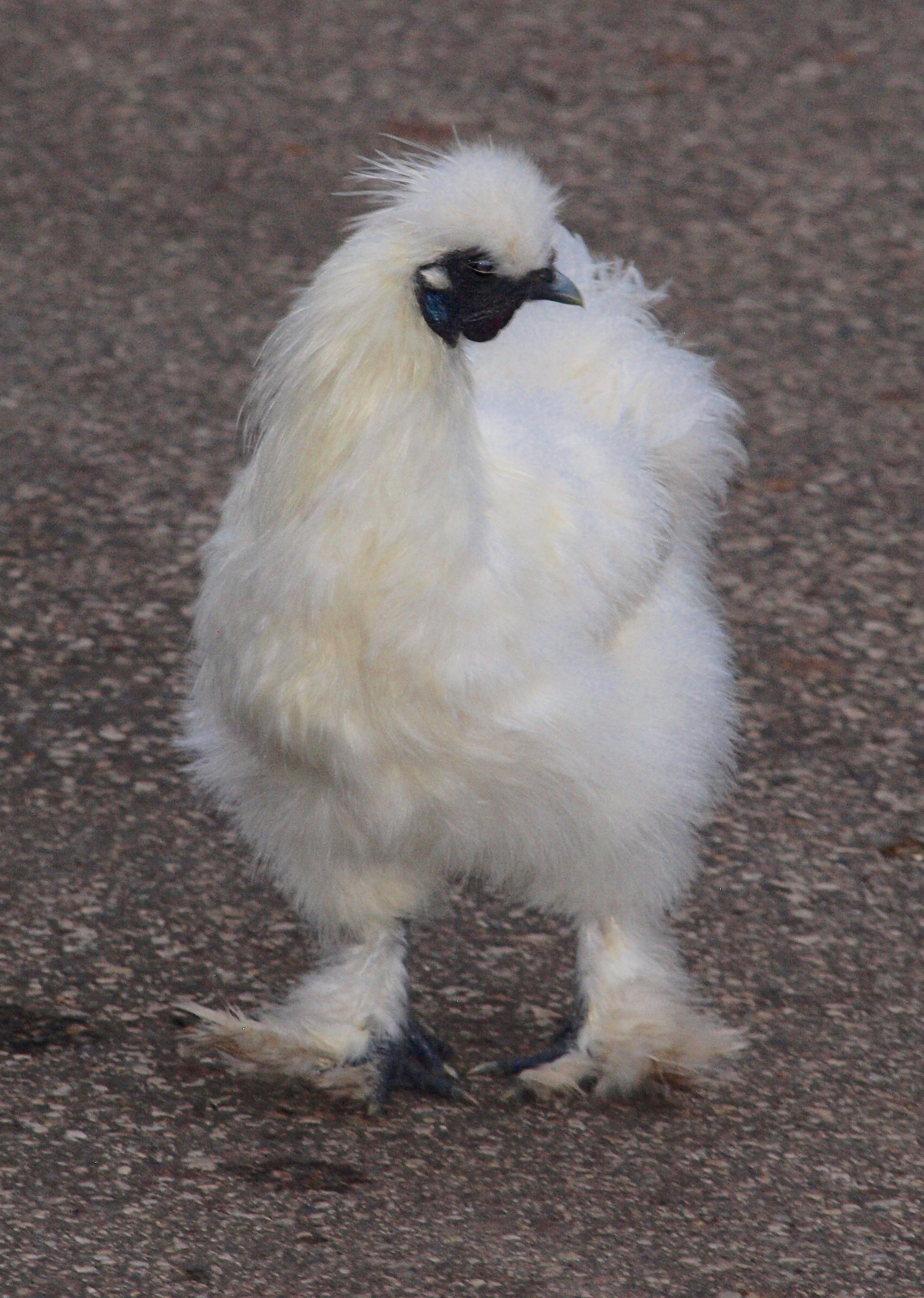 This Polish chicken from Europe had quirky mannerisms, owing at least in part to its crest obstructing its vision! Like the peahen above, it looks stunning against the fall backdrop. Another fun bird to watch!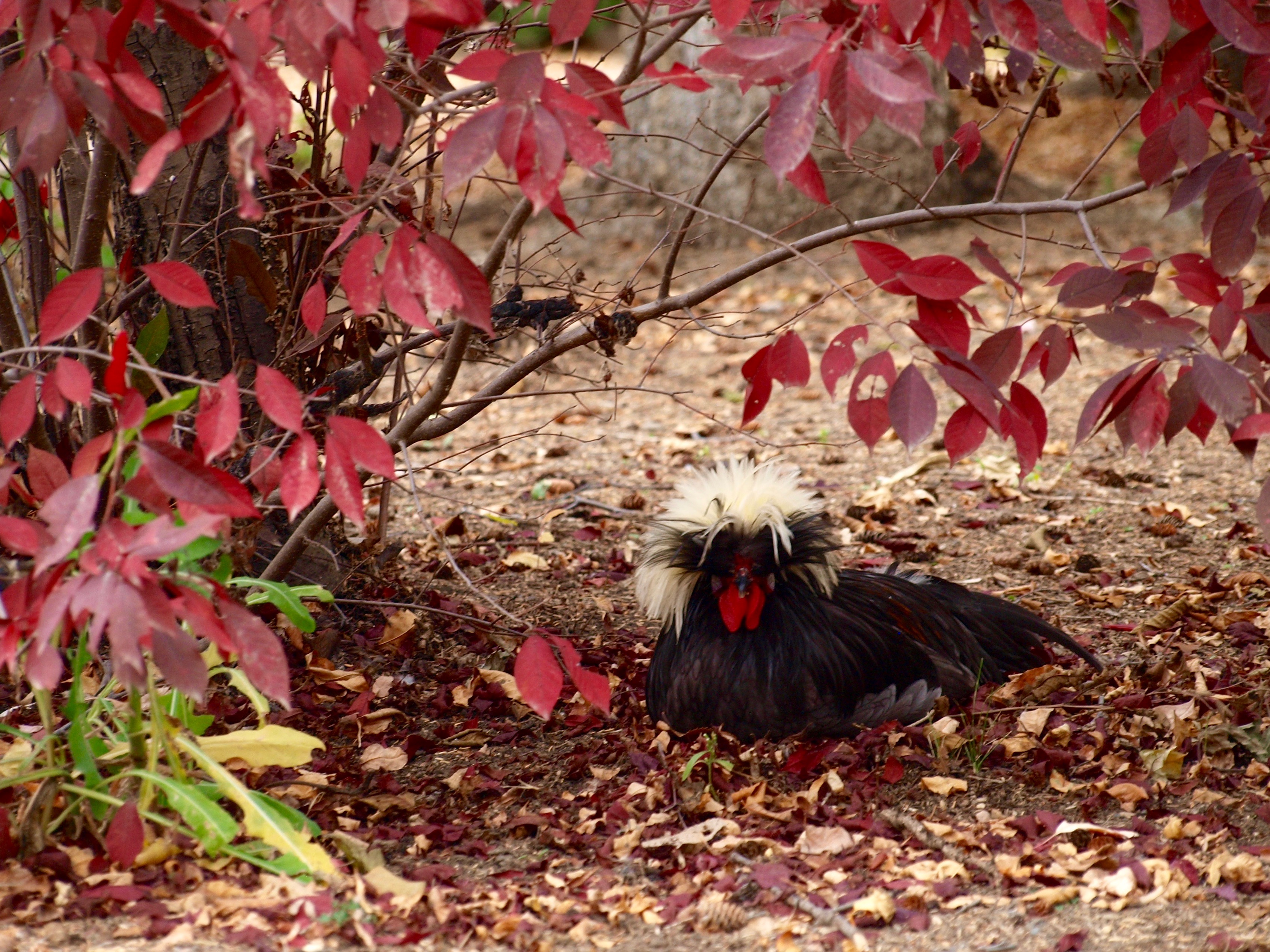 We were surprised to see these free-roaming roosters fly up into a tree during an evening stroll at the zoo. We wondered if their behaviour was "normal" or if it was connected to an earthquake in British Columbia that was felt all the way to the Prairies.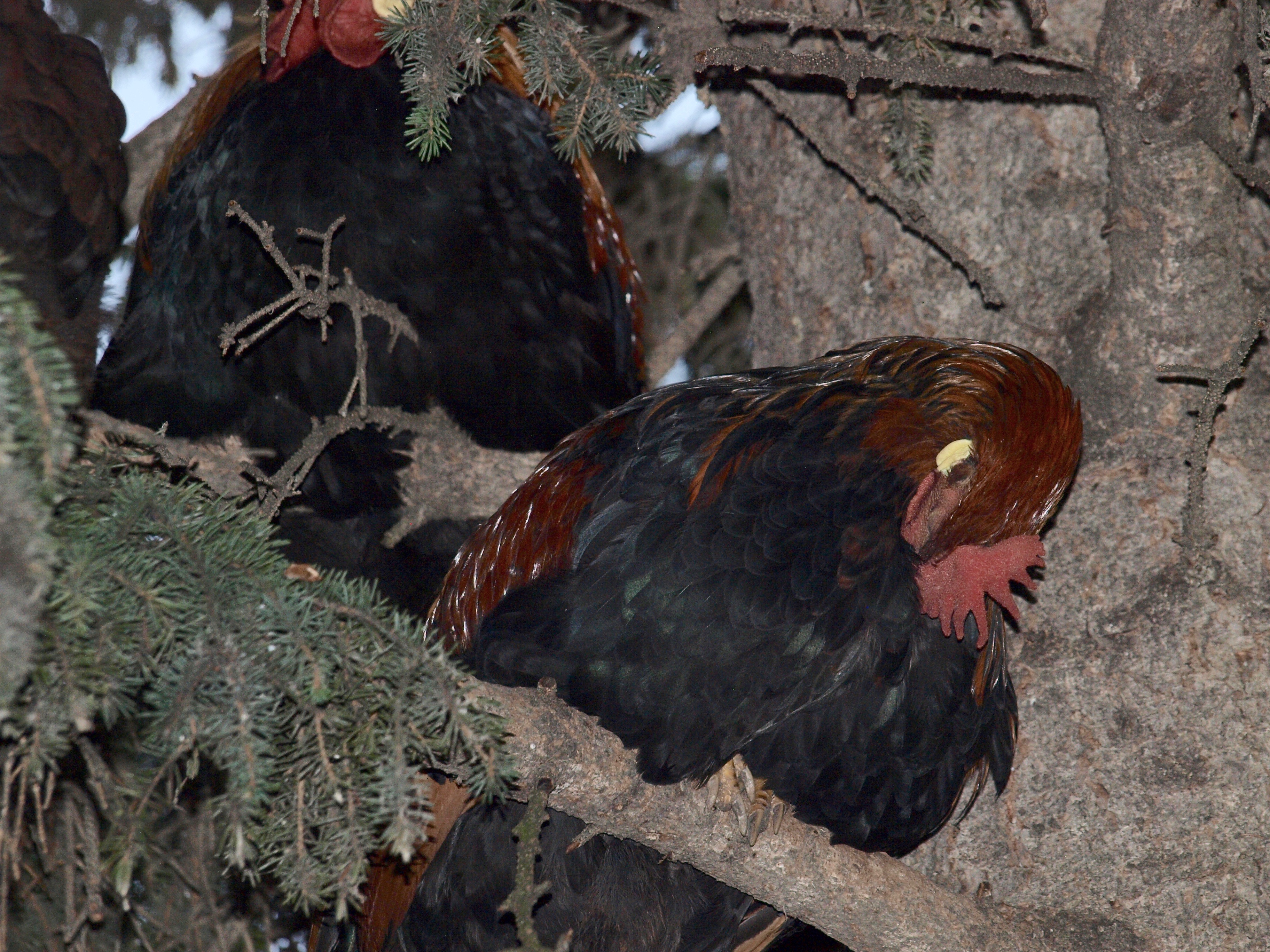 This helmeted guinea fowl is so bizarre looking that it seems almost unreal! We also noticed that it was up in the trees at the same time that the roosters were!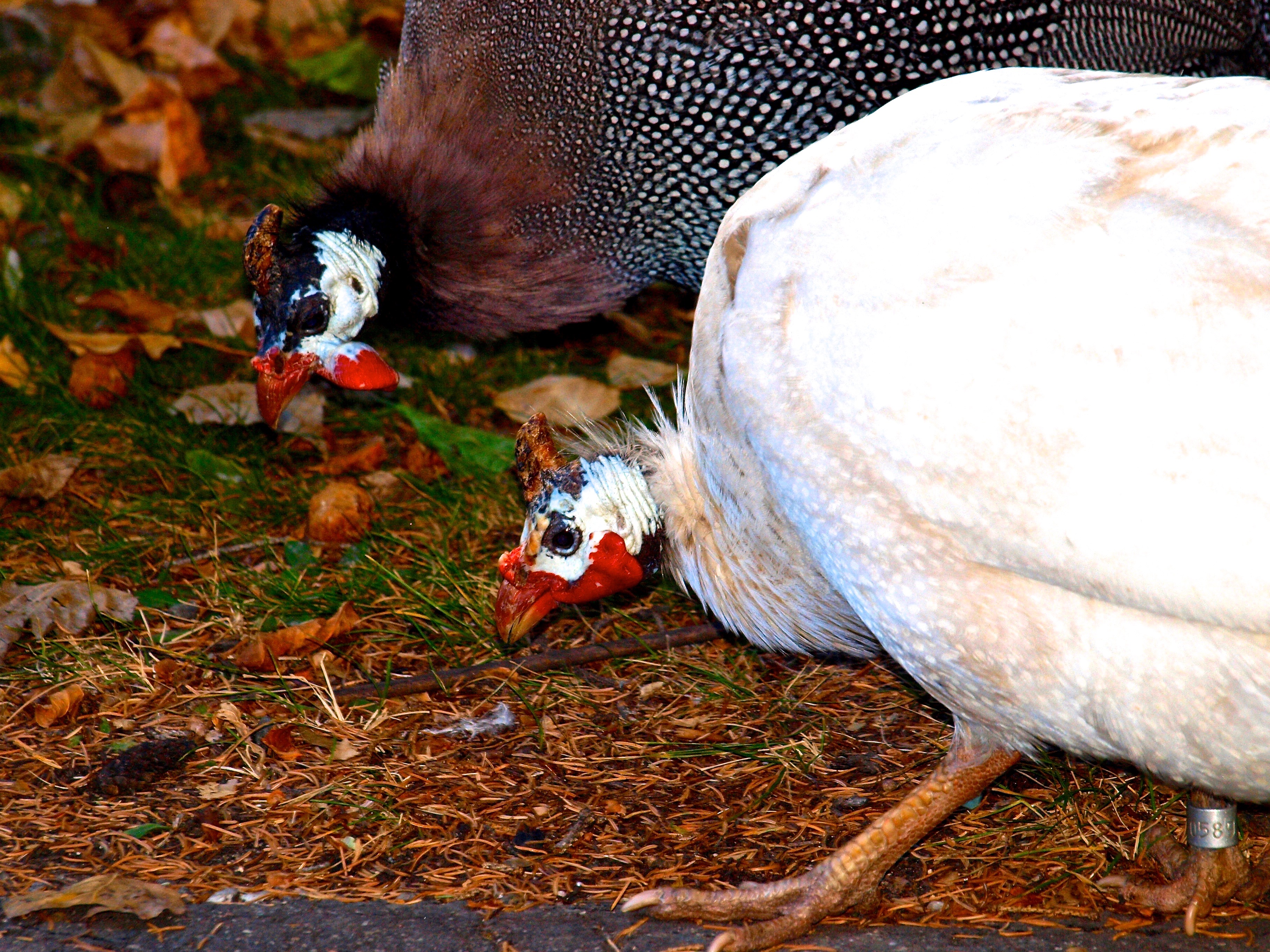 Muscovy ducks, which are native to Mexico and Central and South America, were definitely one of my favourite birds to photograph because of their striking colouring. There were at least two of these black ones and a pure white one as well at the zoo. Muscovy ducks are the biggest and heaviest ducks. Alas, this one departed with all other free-roaming bird members in 2016.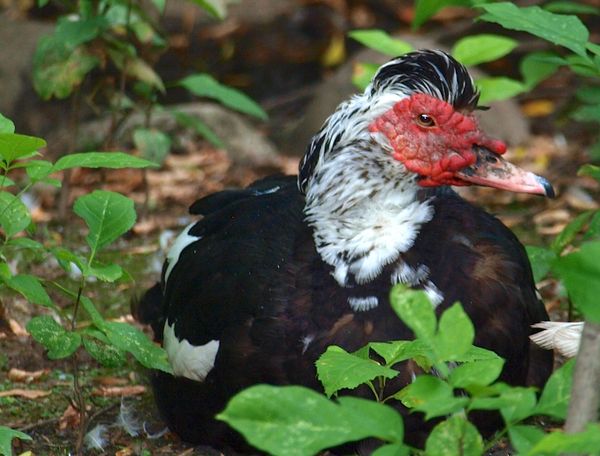 This red panda was a big draw at the Saskatoon zoo until 2017. The first time I saw a red panda was at the Edmonton Valley Zoo (click here to read my blog about it) and I fell in love. I was delighted when Saskatoon ended up bringing one here! Fun fact: red pandas are not related to giant pandas but to skunks and raccoons.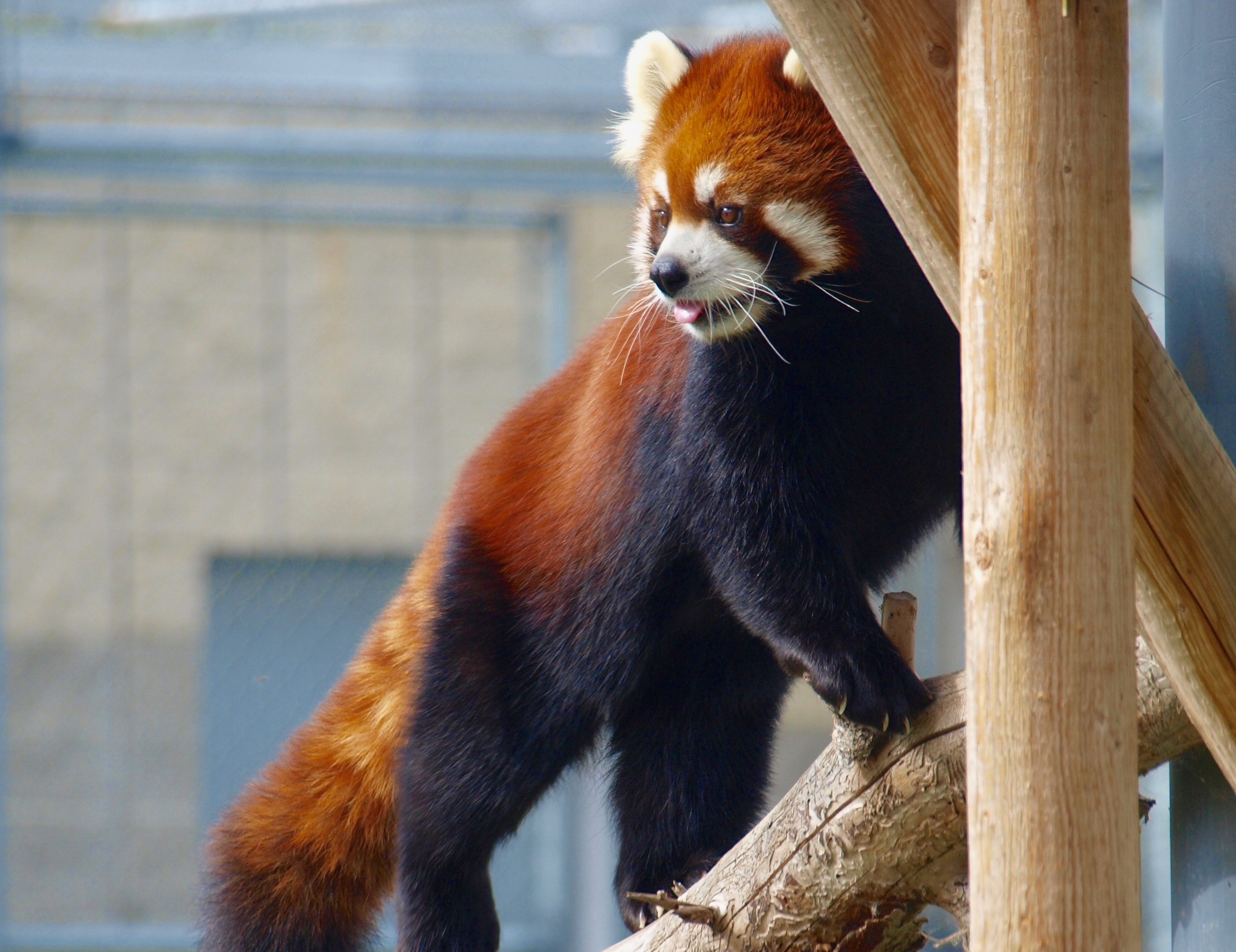 Two Komodo dragons boosted attendance significantly at the zoo in 2017. Komodos are the largest lizards in existence and can weigh up to 91 kg (200 lbs), eating up to 80% of their own body weight in one sitting!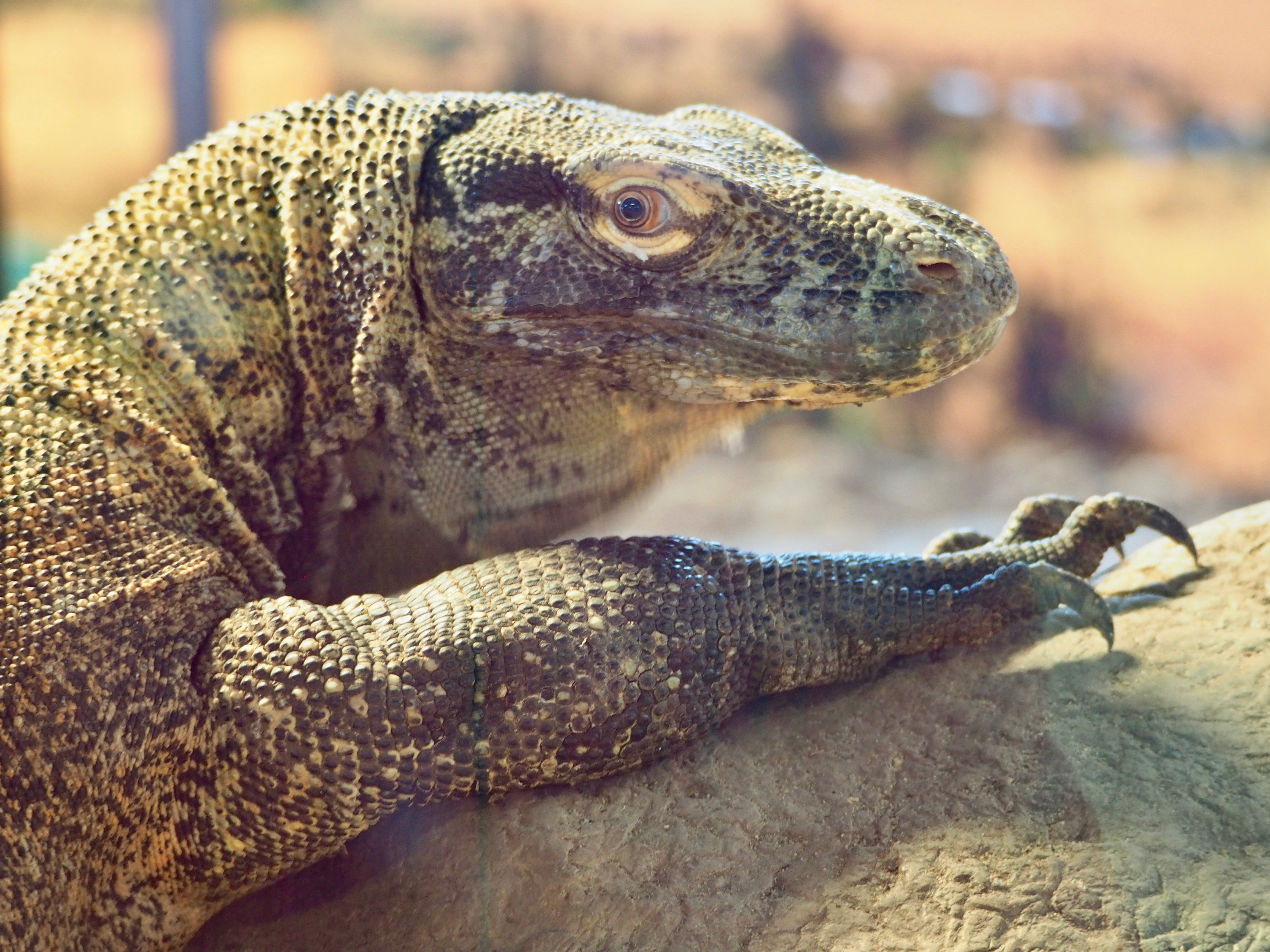 The Komodos were an interesting choice to bring into the zoo, but can't say I'm too sad to see them gone! Especially considering that the animals coming to replace them…are MEERKATS! Coming April 2018!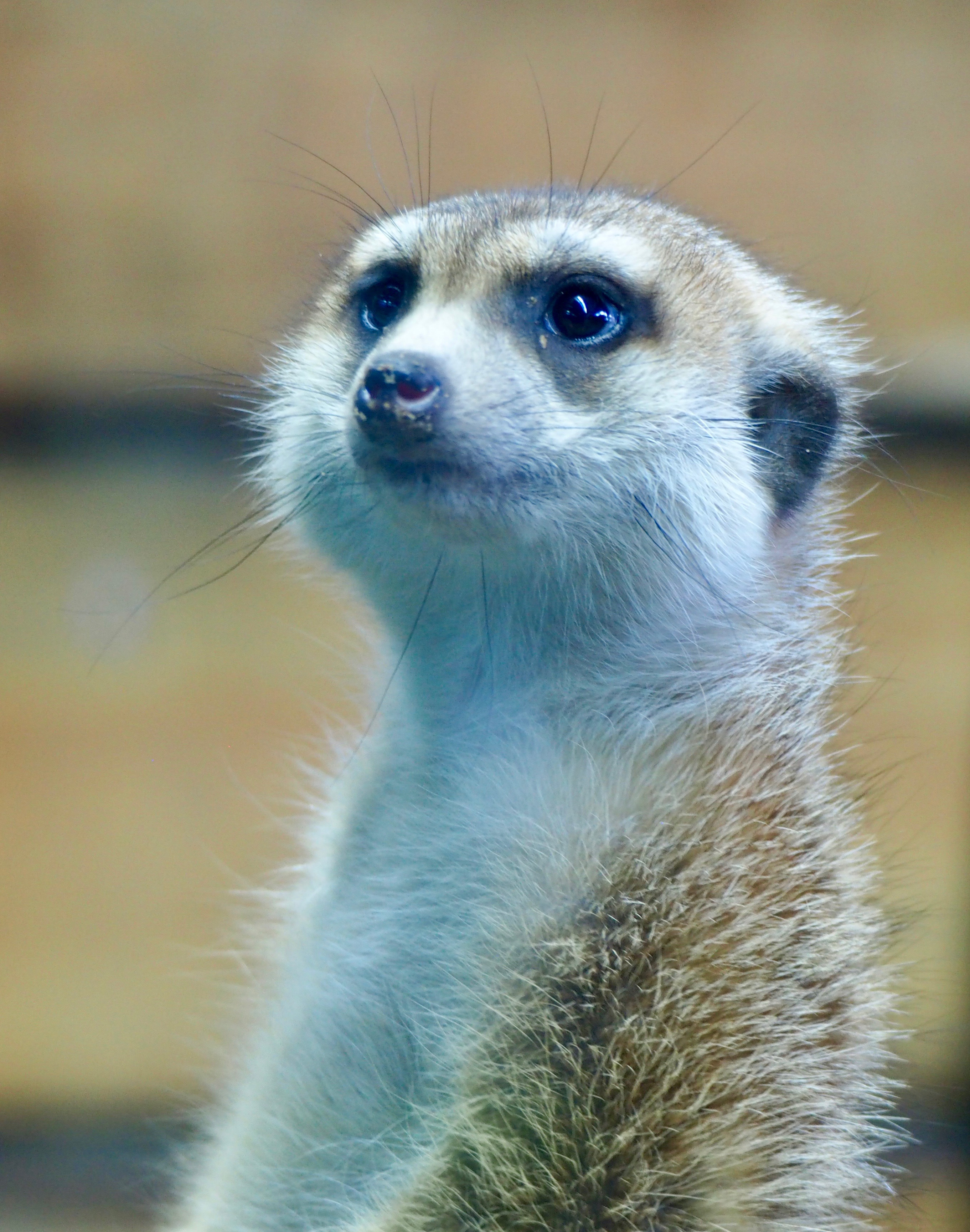 If you enjoyed reading this post, you might enjoy reading these ones as well: 
Click here to read my blog featuring 17 favourite baby and mother photos at the Saskatoon Forestry Farm Park & Zoo. 
Click here to read my blog featuring my 10 favourite photos taken at the Edmonton Valley Zoo. 
Click here to read my blog featuring 9 favourite photos taken at the Magnetic Hill Zoo in Moncton, New Brunswick.
Click here to read my blog featuring 10 favourite photos taken at African Lion Safari in Cambridge, Ontario.
Want to keep up with all my news? Sign up for my newsletter and get your FREE gift here.