Earlier this spring, my husband bought tickets to see Dr. Jim Richards (Impact Ministries; http://www.impactministries.com/) and Drs. Bob & Audrey Meisner (My New Day TV; http://www.mynewday.tv/) at their joint Limitless Living Conference in Calgary, Alberta. Originally my husband had intentions to go to the Impact Ministries conference in Edmonton, but had to cancel when I realized that the date conflicted with another event I had committed to. Despite the conflict that arose between my husband and I (he was very disappointed not being able to go to Edmonton), once we both came to the decision separately that we were willing to give up our plans for our respective spouses, God's glory poured out. We came into agreement that the conference in Calgary was in fact the one the Lord destined for us, and I felt strongly that this weekend was going to be life changing. This was just another example in my life that proved that God knows the big picture better than any of us.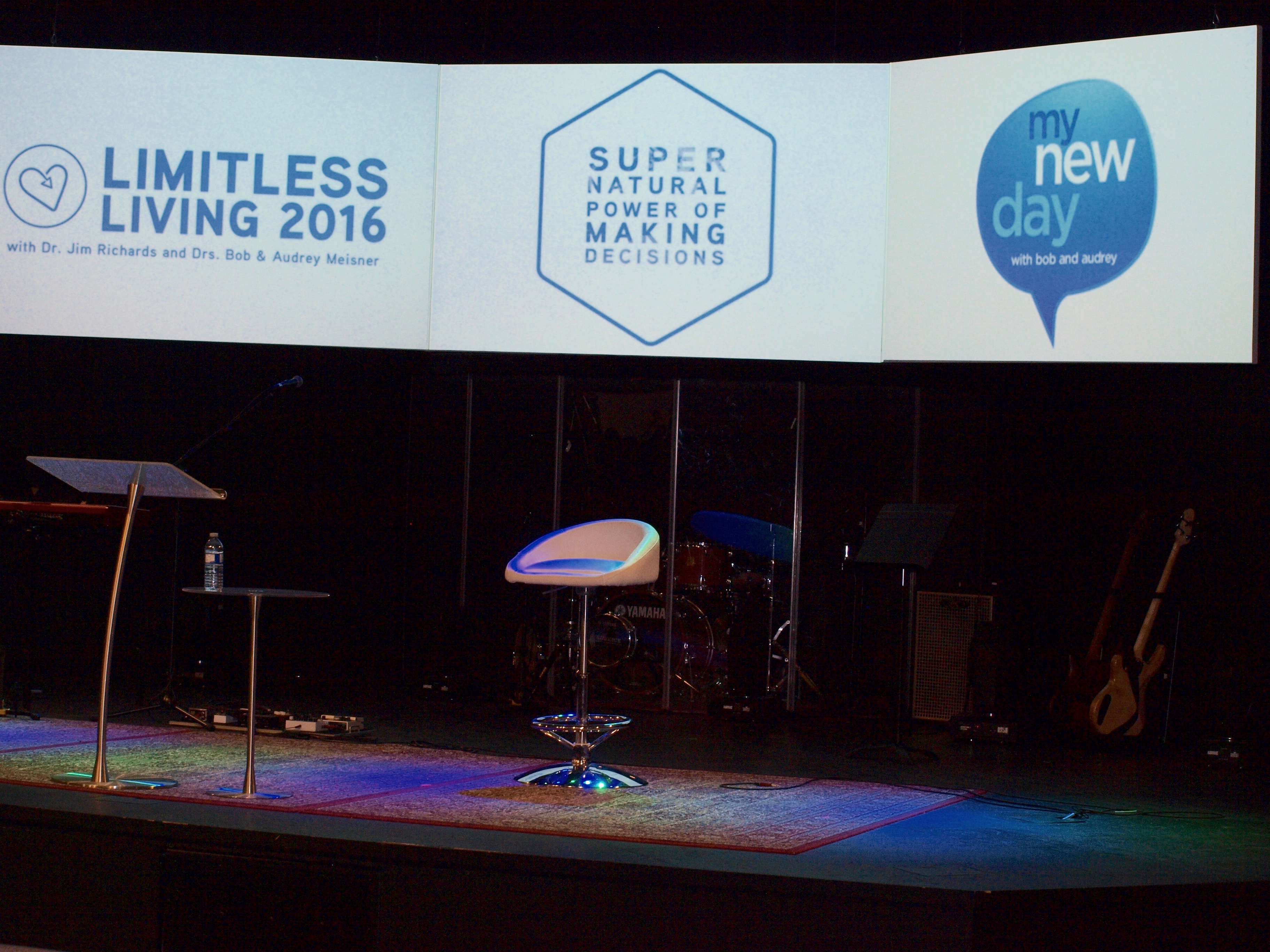 At the hosting church, and with pre-conference excitement building, I stood in the aisle and took the above photo, only to turn around and instantly recognize this gentleman, Willard Thiessen, co-founder with his wife Betty of Canada's first Christian television show It's A New Day. I blurted out, "I recognize you!"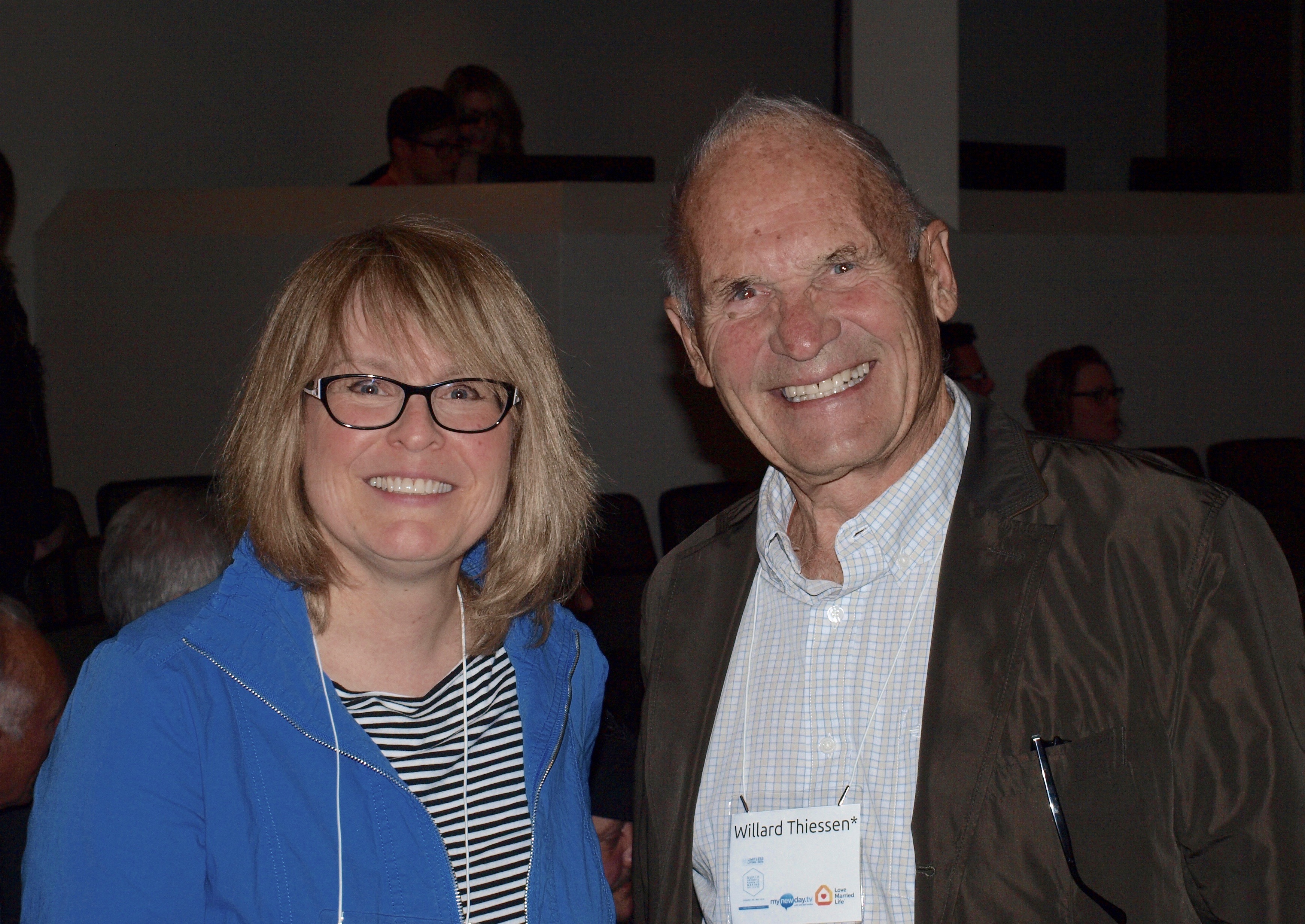 Smiling as he looked at my name tag, he laughed and said: "I recognize you too: Sally Meadows!"  We shook hands; got a photo; and Willard continued his way down the aisle to the front. Willard and Betty attended the entire conference, and their presence in the audience (and occasionally onstage) showed both their connection to and importance in setting the groundwork for the new generation's (Bob & Audrey's) ministry. 

My first "God moment" happened early in the conference when Bob Meisner shared that the Scripture that motivated Willard and Betty to establish their television and prayer ministry—a ministry that led to the eventual birth of the Meisners' ministry—was the same one that is my Scripture for 2016 (from Isaiah 61:1): 
 
"The Spirit of the Sovereign Lord is on me, because the Lord has anointed me to proclaim good news to the poor. He has sent me to bind up the broken-hearted, to proclaim freedom for the captives and release from darkness for the prisoners." 

The conference opened with some prophetic words from the speakers and hosts including this Scripture from John 16:33: 

"I have told you these things, so that in me you may have peace. In this world you will have trouble. But take heart! I have overcome the world." 

I have heard the expression "Prince of Peace" before, but the presentation's emphasis on peace with God, ourselves, others, our past, and our current season really helped me grasp a deeper meaning for this name of Jesus than I had before. Peace comes with the presence of Jesus. Peace leads to happiness, something all of us long for and many never seem to achieve. 

We were reminded that God provides exceedingly and abundantly above anything we could imagine.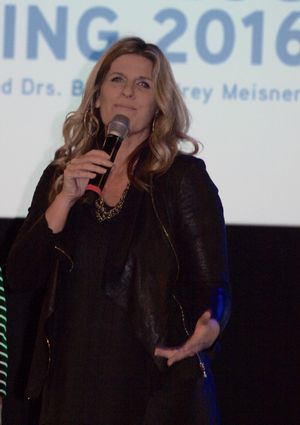 Dr. Jim Richards' presentations, as always, challenged and pushed the boundaries of conservative thinking. The core of his first message was this: Trust in the character and nature of God, and you WILL make right decisions. Of course, this requires us to make a heart connection with our Lord as we spend time discovering who God really is, and believing the truth about God as revealed by Jesus Christ.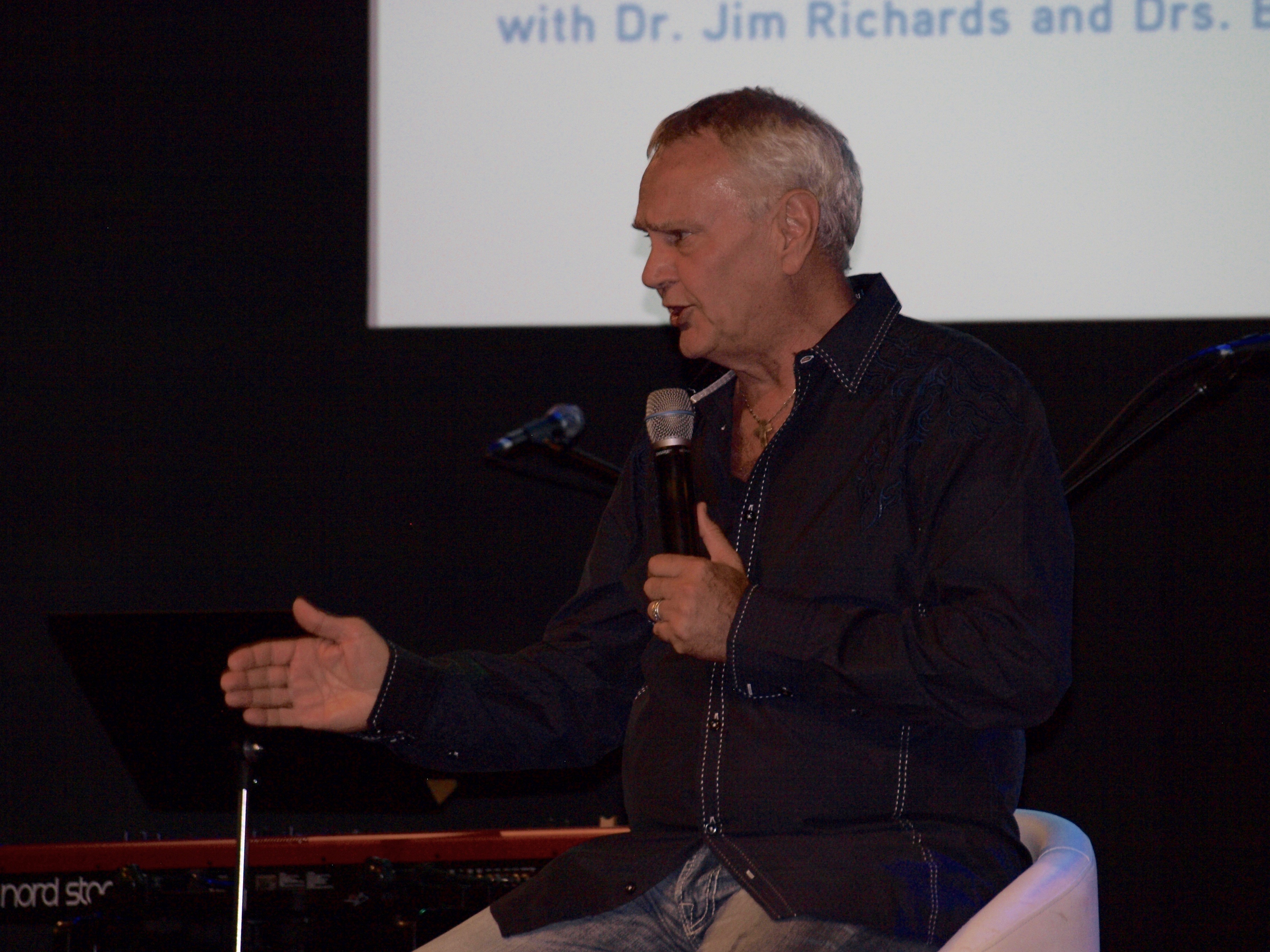 I took copious notes during the conference that I will be digesting over the course of the next few months. This blog post shares only a few of the highlights, including this next one as Bob & Audrey Meisner took the stage to explain why so many of us struggle in life. 

The truth is, is that there have been things said and done to us—THE FACTS OF LIFE—that we can't change. The problem is, that we have, often incorrectly, assigned a MEANING to the situations that have harmed us, which then become the belief systems of our hearts. Jesus wants to meet us at the FACTS, and halt the meaning we assign to them before it takes any more root in our lives. Jesus wants to rewrite our STORY. We have a tendency to repeatedly tell ourselves—and gather evidence to support—the MEANING of the FACTS, but Jesus wants us to change the meaning through Him. We can do that by remembering the cross, so that we can come into agreement with how the Father sees us, not how our flawed selves see ourselves. Jesus can erase all the MEANING we attached to the FACTS so that the truth according to God can be written on our hearts and souls.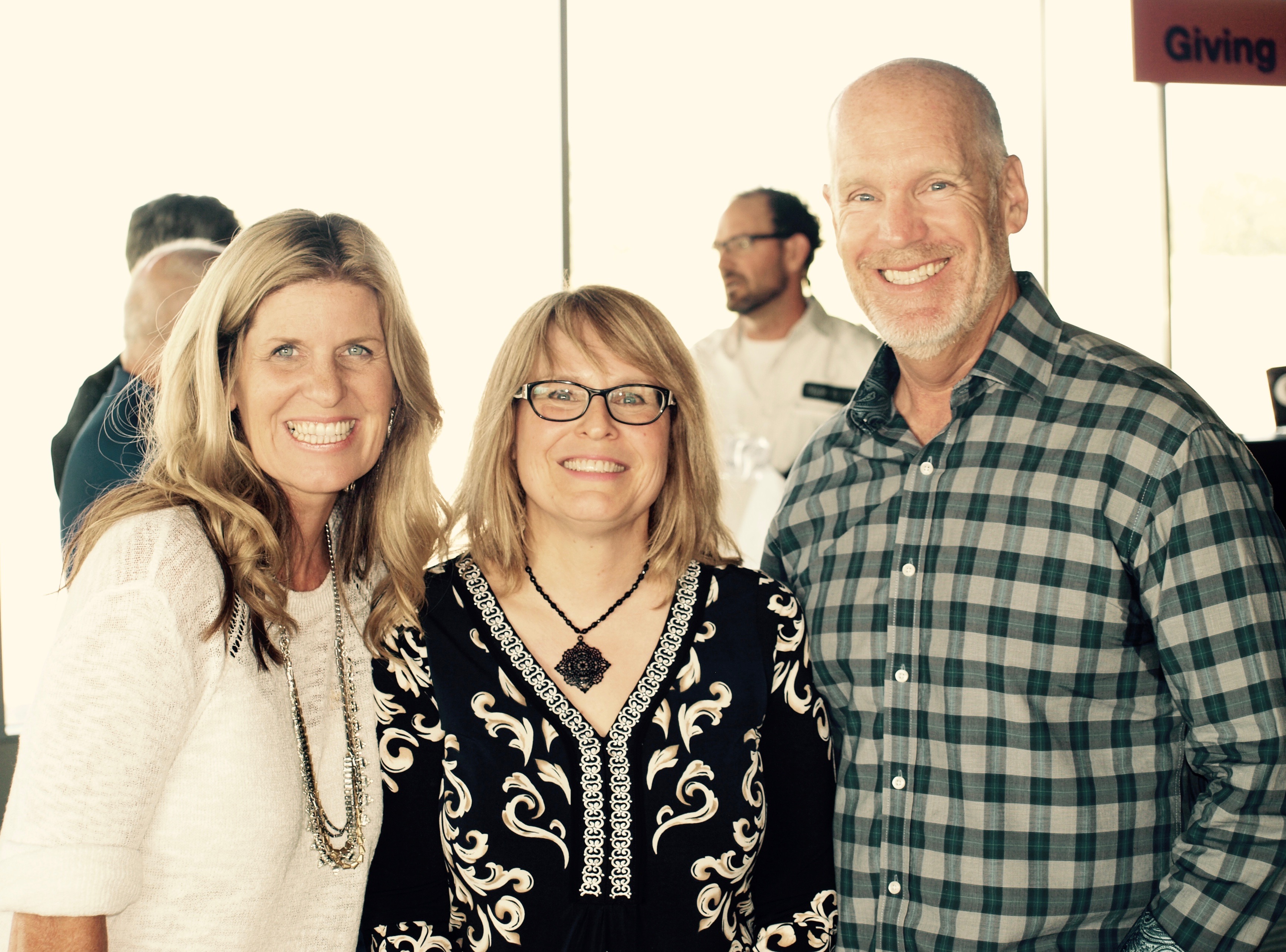 Here was another important message: When you are able to serve others and expect nothing in return, only then are you secure in your identity as a child of God. 

So begin to see God's realities for your life. Meditate on the goodness and promises of God. Allow His realities to become yours. 

Jim Richards defines sin as "any thought, opinion, belief, or behaviour that makes you perceive yourself any less than how God perceives you." The truth is that you and I are deeply loved and accepted by our heavenly Father. Jim challenged us to write down every night before bed—since it is through our dreams that we sort out our subconscious—that we write out TRUTHS about ourselves, always in the first person, positive words only, and in the present tense. And see what change this makes in our lives. (He suggested trying it for 90 days but imagine what an impact it would make if we did this every day of our lives.) 

More from Jim Richards: Recognizing, listening to, and following the Holy Spirit is the most important thing for us to do. The more we use the gifts the Holy Spirit has deposited in us, the more we are connected to God, AND to the reality that Jesus Christ is coming back for us. We need to get rid of everything in our minds, hearts, and souls that alienate us from God. When we encounter thoughts and feelings not in alignment with God, we need to disallow them in our lives. Send them away with confidence; live a life that includes a renewing of the mind. 

I was delighted to spend some time chatting with Bob & Audrey's son, David (pictured along with Jim Richards and yours truly). He works with his parents (third generation!) in getting them better connected to young people in their 20s who desperately need the gospel of Christ in their lives. What an amazing young man!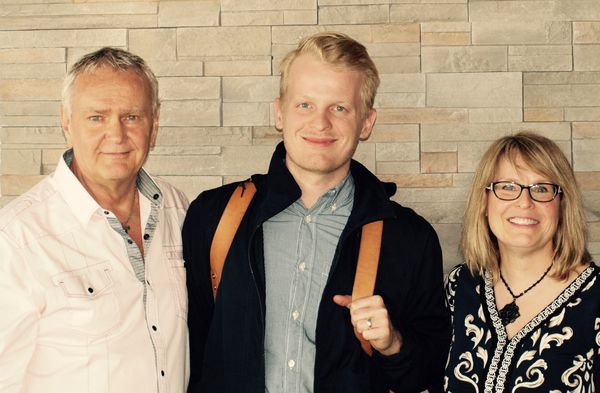 Here's an excellent action item: Write out an "emotional character sketch" that creates an image of who you want to be. Always write in the first person, use positive words, and use the present tense (same as the exercise above).  Do everything you can to allow yourself to get to that target. Read your character sketch over, remind yourself of it, and trust that this will be your reality through the grace of God. Great examples of character sketches are in Bob & Audrey's book The Gift Of A New Day (2010). 

Reading over all my notes after letting it sit for three weeks while I was busy with other things in life, I am starting to understand much better about what God meant when He whispered to me that this was going to be a life-changing weekend. (In fact, these three weeks were filled with blessings that I can't even begin to recount.) I was very encouraged by Jim Richards' and Bob & Audrey Meisner's messages, and I encourage you to explore all the amazing resources they have available to strengthen your faith, your marriage, your understanding of self, and so much more. Here are their websites again. 

Jim Richards: http://www.impactministries.com/

Bob & Audrey Meisner: http://www.mynewday.tv/

If this post has blessed you, it would bless me if you commented below. Thanks for tuning in!