As I was going for my daily walk on the eve of the release of my new single "Holy Spirit" (September 9, 2016), I began to think about what the headline for the blog officially announcing its release (i.e. this one) would be. And immediately, the name HOLY SPIRIT RELEASED! came to me. 
Recording and releasing this song is far more than something done for my own personal gain. I want to see people—that includes YOU—rise up to the fullness that Christ has destined them uniquely for. I want to see the Holy Spirit released through YOU in all that you do. I want to see His love pouring out from YOU to the unsaved, the unloved, the marginalized, the hurting, and the grieving. 
My prayer is that you will feel the joy and assurance of the heavenly Father's love when you listen to and worship Him through this song.
My prayer is that you will share this song with your church so that you can experience an infilling and outpouring of the Holy Spirit TOGETHER.
My prayer is that when you are experiencing a rough patch in your life that this song will help you praise Him despite your circumstances.
My prayer is that you use this song to introduce Jesus to those who don't know Him.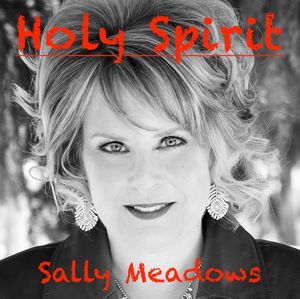 To enhance your experience while listening to the song, I am absolutely delighted to announce that award-winning, bestselling author/illustrator Ann-Margret Hovsepian (Restore My Soul) has designed an exclusive 8 1/2 by 11 inch colouring sheet to celebrate the release of my single "Holy Spirit" just for YOU. This colouring sheet is available FREE of charge to anyone who purchases "Holy Spirit." The PDF for the colouring sheet is available for FREE download on my website (with the purchase of "Holy Spirit," click here) OR you can email me at sally@sallymeadows.com when you purchase the single on iTunes (click here) or at cdbaby.com (click here). Please note that standard copyright laws prohibit the photocopying of this sheet.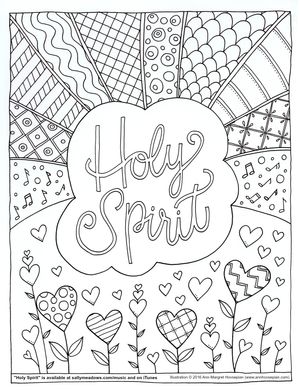 And there's more! Lead sheets, vocal sheets, and chord charts are available FREE of charge to churches interested in including "Holy Spirit" in their worship rotation. To receive these sheets, please send the name, address, phone number, and contact person of your church to sally@sallymeadows.com. We are aiming to get "Holy Spirit" on CCLI's SongSelect database, so your consideration of including this song in your services is greatly appreciated! 
Here is the video of the song "Holy Spirit" including lyrics! Enjoy! And may you be filled with the Holy Spirit to overflowing! 
 
Finally, I must thank everyone who was involved in this project, from my songwriting partner Stan Garchinski to Holy Spirit Church to producer Bart McKay​ and the wonderful studio musicians, Justin Kudding, Chad Melchert, and Murray Pulver!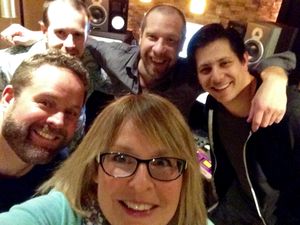 Sign up for my newsletter and receive a FREE digital CD, my debut CD, Turn the Page. Click here to sign up!