The Town of Shediac in New Brunswick has been one of my favourite places to visit since I moved to Canada's East Coast last year. A popular destination for tourists thanks to its fantastic restaurants and one of the best beaches (Parlee Beach, see below) in Atlantic Canada, it also offers great shopping for anyone looking to take home a little bit of the east coast with them.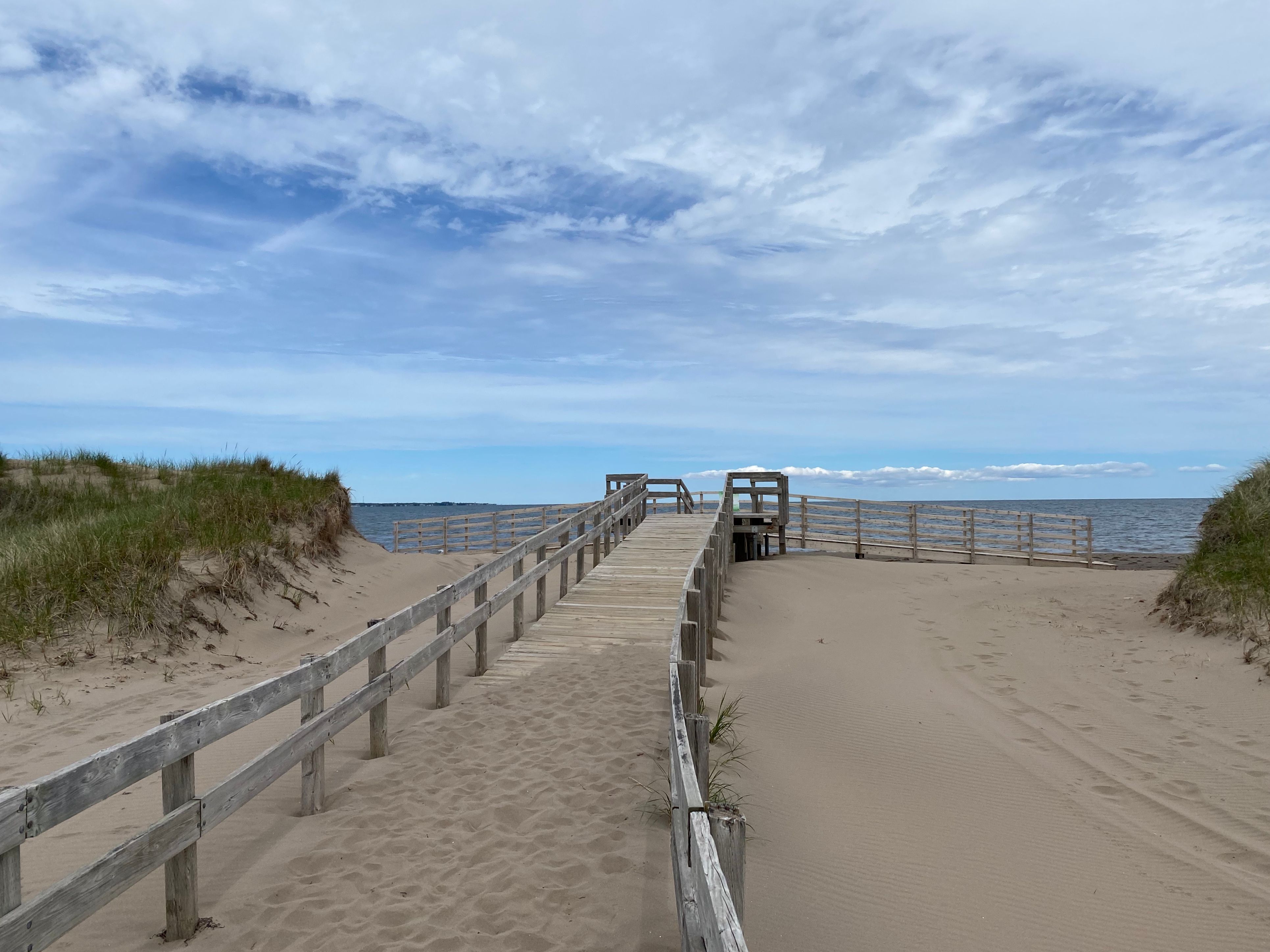 Recently I took a tour through a store called Maritime Crafts, Shirts & More (MCSM), located at 342 Main Street, in the same parking lot as (but behind) the mall that includes Service New Brunswick. With a separate outside entrance and its name blazoned on the building, you should have no trouble locating this gem of a store, popular with locals and tourists alike. 
Inside are over 80 talented vendors offering everything from T-shirts to home décor to fine art to gift items and so much more. On this particular visit, I honed in on my favourite kids' gifts, and there certainly was a lot to choose from! 
Upside Down Jellyfish creates crocheted, mostly ocean-themed creatures. From lobsters to jellyfish to mermaids to frogs, you're sure to find something that the child in your life will treasure.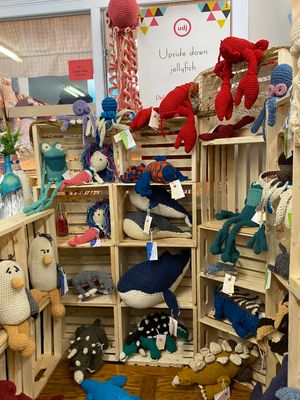 Panther Perches is a Moncton business that specializes in the design and manufacture of quality cat furniture, but the owners also make these cute wood paw print-themed "x and o" games that are sure to delight the pet-loving kid.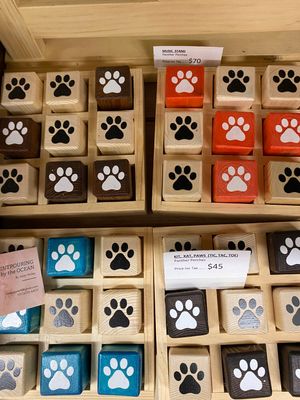 I just love these kid-sized aprons by We Make Scents n Stuff, but don't stop there. This large booth also includes hand-made dolls and washable, colourable dolls that are sure to please the young'uns in your life.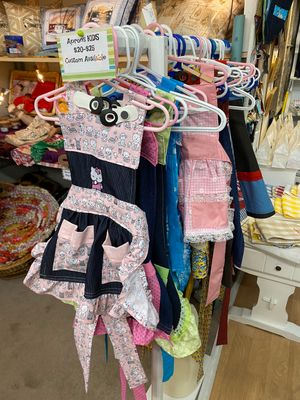 Beaded Beauties may be new to MCSM but it boasts beautiful work including personalized pacifier clips, teething rattles, and more for bigger "kids" too.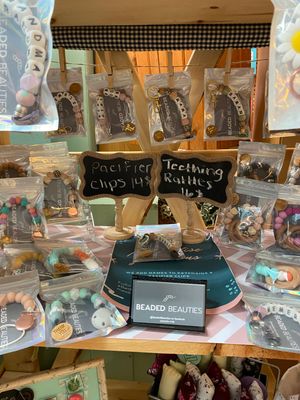 These cute bees by LEDD By Kids really caught my eye! So cute I want one myself!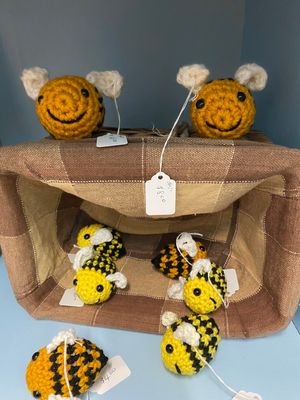 Another eye-catching, brightly coloured gift item booth included these tutus and blankets by Stephanie's Workshop. So darn cute!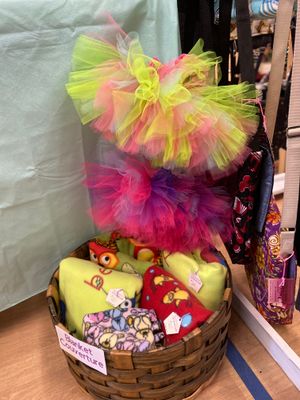 I don't want to pick favourites, but Ewe Silly Goose's booth makes my heart especially happy! Felted animals, baby mobiles…check out all her products if you are shopping for a unique gift for a newborn or young one!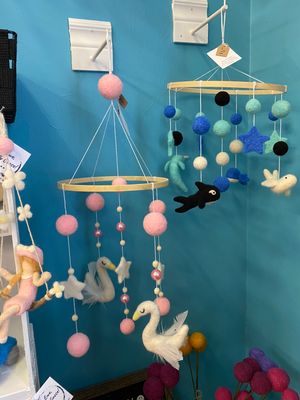 I loved, loved, loved, this seagull by Skapandi. It would look fantastic in a child's bedroom, but hey, if it speaks to you, I could easily see it used as home décor anywhere in your house!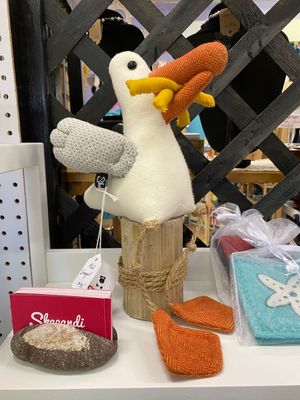 Bathtub Bliss has a fantastic selection of colours and scents for bath bombs and more. I love their display, and you will find something for all tastes when it comes to "bathtub bliss!"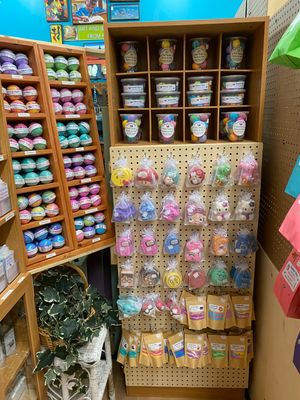 Finally, check out my own booth, "Prairie Girl Goes Coastal." I am a children's book author and three of my children's books, The Underdog Duckling (ages 5-9), When Sleeping Birds Fly: 365 Amazing Facts About The Animal Kingdom (ages 8+), and When Crocodiles Cry: 365 More Amazing Facts About The Animal Kingdom (ages 8+) are in stock at the store, along with a few home décor items that might fit perfectly in a children's bedroom, including the colourful decoupaged wood toadstool and handmade house-on-a-cliff below.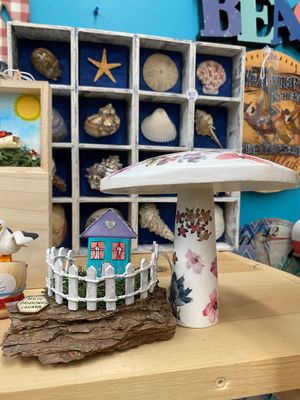 There are SO many more wonderful artisans at MCSM, I encourage you next time you are in the Shediac area, to pop in and check them all out. Give yourself a good half hour at the very least to mosey through the store and check out ALL the nooks and crannies and help support New Brunswick artisans! As a visual artist myself, there has been hard work and a lot of love put into every single item. Not travelling anytime soon? Show some love for local anyway by clicking on any of the links above that I have provided for the varying vendors. 
If you enjoyed this post and would like to know more about what you can do in and around the town of Shediac, click here to read another blog in which I sing its praises! 
If you would like to keep up with all my news, please consider signing up for my monthly newsletter by clicking here to get all the details. You will also get a FREE CD and can unsubscribe at any time if it's not your cup of tea.